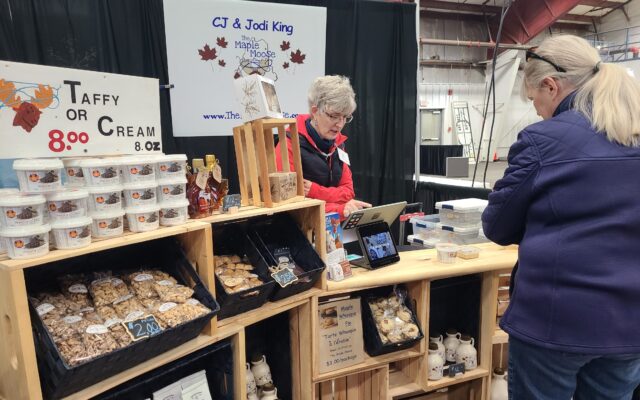 tradeshow-042322_Emily-Jerkins-2
Jodi King of Easton's The Maple Moose sells maple products at the 2022 Top O'Maine Trade Show in Madawaska. The show returns April 29-30. (File: Emily Jerkins | St. John Valley Times)
Top O' Maine Trade Show to return
Billed by organizers as the biggest trade show north of Bangor, the ever popular Top O' Maine Trade Show will return to Madawaska the weekend of April 29-30.
The show brings together vendors from multiple community sectors including entrepreneurs, crafters, volunteers and student athletes.
Red Cross will host a booth at the fair for the second year in a row. 
"We're very excited to be at the trade show again this year," said Brian Bouley, community manager for American Red Cross Northern New England. 
Red Cross provides information at the show about the non-profit organization's mission while also recruiting volunteers and promoting its bimonthly Aroostook County based blood drives. 
"We actually had a couple volunteers sign up after the show last year," Bouley said. 
The Top O' Maine Trade Show will also include food for sale by the Valley Mustangs football team, including their locally famous chili. 
The longstanding trade show returned last year after a two-year hiatus due to the COVID-19 pandemic.
Admission is $3 for adults, $2 for children ages 12-17, and free for children 11 and younger. The event will take place Saturday, April 29, from 9 p.m. until 6 p.m. and Sunday, April 30 from 10 a.m. until 4 p.m. at the Madawaska Multipurpose building on 7th Avenue. 
Booth space is still available for this year's show by contacting the St. John Valley Chamber of Commerce at 207-728-7000.