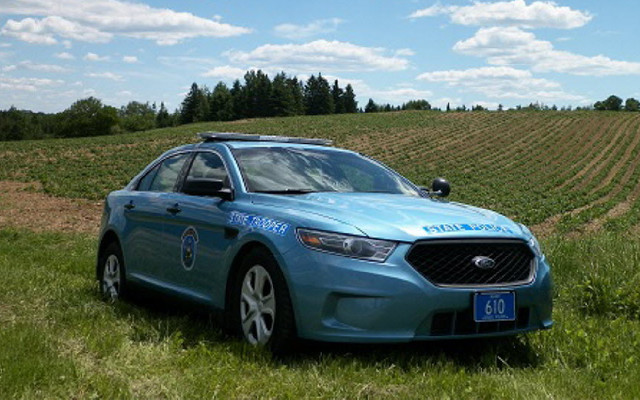 MSP_F
Maine State Police - Troop F - Aroostook County.
​​Maine State Police Troop F Report, Feb. 6-12, 2023
Editor's Note: An arrest or summons does not constitute a finding of guilt. An individual charged with a crime is presumed innocent unless and until proven guilty at criminal proceedings.
HOULTON, Maine — The Maine State Police Troop F barracks in Houlton responded to a number of calls for service during the period of Feb. 6-12, 2023, including the following.
Monday, Feb. 6
WALLAGRASS — Tr. Curtin responded to a two-vehicle crash with injuries on Sly Brook Road in Wallagrass. Tr. Curtin investigated the crash and determined that Angel Bubar was operating a 2018 Subaru Crosstrek and was entering the roadway from a private driveway on the Sly Brook Road. At the same time, CJ Rocheleau was traveling East on Sly Brook Road in his 2011 GMC Sierra. Rocheleau was unable to avoid Bubar's vehicle and the two vehicles collided. Bubar and his 15-year-old female passenger were seriously injured in the crash. Both were transported to Northern Maine Medical Center in Fort Kent by ambulance and later life flighted to Northern Light Eastern Maine Medical Center in Bangor. Both remain in critical, but stable condition. Rocheleau was treated for minor injury at Northern Maine Medical Center and was later released. The investigation is ongoing.
Tuesday, Feb. 7
FORT FAIRFIELD — Cpl. Kilcollins was invited to Fort Fairfield High School to speak with students about jobs in law enforcement. Cpl. Kilcollins spoke with the students about the Basic Law Enforcement Training Program, Recruit Training Troop, background checks, oral board, polygraph, and what a trooper does day to day. Cpl. Kilcollins also did a Q-and-A with the students. 
Thursday, Feb. 9
HODGDON — Tr. Castonguay was conducting traffic enforcement in Hodgdon when he observed a pickup with no taillights.  Tr. Castonguay stopped the truck and after an investigation he learned the man bought it from a private person in Houlton and was trying to drive it home.  The vehicle was not registered (since 2009), was not inspected, nor was it insured.  Tr. Castonguay had the vehicle towed from the roadway and issued the man a criminal summons for the unregistered vehicle.  The man was issued a written warning for the other violations.
Friday, Feb. 10
MONTICELLO — Sgt. Clark was driving on U.S. Highway 1, Monticello, when a vehicle in front of him crashed into a snowbank.  Sgt. Clark stopped to check the driver and during his investigation discovered the man had a revoked driver's license.  Sgt. Clark had the vehicle towed out of the snowbank and towed from the scene.  Sgt. Clark issued the man a criminal summons for operating after revocation.
Saturday, Feb. 11
MONTICELLO — Cpl. Quint was conducting traffic enforcement in Monticello when he observed a pickup pass his stationary position at a high rate of speed.  The trucks speed was locked at 88 mph in a posted 55-mph zone.    The woman was also on bail for an unrelated offense.  Cpl. Quint issued her a traffic summons for speeding and she was also issued a traffic summons for not having current proof of insurance.
LITTLETON — Cpl. Quint responded to I-95, Sherman, for a tractor trailer that had gone off the road.  The truck sustained damage and was towed from the roadway.  On Feb. 11, Cpl. Quint received a complaint of a box trailer blocking the roadway in Littleton.  The driver of the truck, unhappy with the tow bill, attempted to fix his truck and leave with the truck and the trailer.  He was seen by the wrecker owner and did not hook the trailer correctly which detached in the roadway.  The man was issued a criminal summons for the incident, a trespass notice from the property, and was taken to the Houlton truck stop to make arrangements with his company for transportation.
STACYVILLE — Tr. Castonguay was driving on Route 11, Stacyville, in his marked cruiser.  A vehicle came up behind him speeding and passed him at 86 mph in a posted 50-mph zone, in a no-passing zone.  The man was issued a criminal summons for exceeding the posted speed limit by 30 mph or more and a warning for the illegal/unsafe pass.
LUDLOW — Tr. Castonguay was conducting traffic enforcement on I-95, Ludlow, and stopped a pickup hauling a trailer without rear lights.  After an investigation, the driver was arrested for operating under the influence and transported to the Aroostook County Jail in Houlton for a breath test.