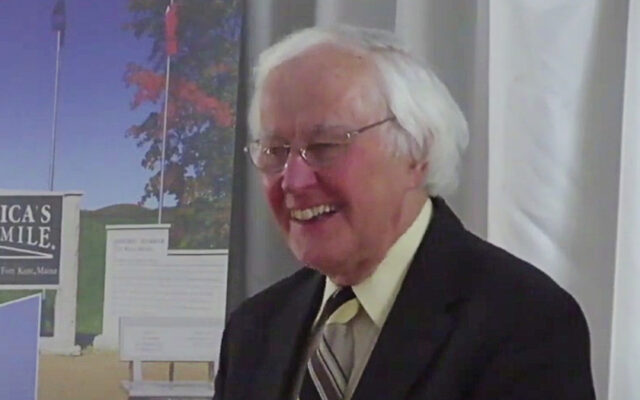 SJ–JohnMartinCOY-020923
Retired lawmaker and prolific community volunteer John Martin received the 2022 Citizen of the Year award from the Greater Fort Kent Chamber of Commerce on Feb. 9. (Courtesy of WFKTV Channel 4)
Fort Kent chamber names John Martin citizen of the year
FORT KENT, Maine — Retired lawmaker John Martin is well known for having been the longest serving legislator in Maine history, but he has also served as a volunteer for more than 20 community organizations. 
As a result of his unwavering dedication to the people of the St. John Valley, the Greater Fort Kent Chamber of Commerce has named Martin its 2022 Citizen of the Year.
The chamber recognized Martin and several local businesses at its 75th annual meeting and awards banquet on Feb. 9.
"Our region is blessed with a high level of volunteerism and community involvement," Citizen of the Year committee member Norman Fournier said before announcing Martin. "This year's recipient is a prime example of what makes us special."
Martin was first elected to the Maine House of Representatives in 1964 when he was 23. He served a variety of posts since then, and left office in November due to term limits. 
He helped found Fish River Rural Health, Ambulance Service Inc. and the Eagle Lake Water and Sewer District. He has also served on many boards including for Northern Maine General and SAD 27, for which he volunteered 22 years.
Martin's Citizen of the Year acceptance speech was short.
"This is the first year I couldn't find out who the nominee was," he said.
"I just want to say that what I've done over the years is because I enjoy doing it and it was basically serving the people of this area."
Other award winners at the annual chamber event were 2022 Small Business Award, Jake's Cleaning Service; 2022 Small Business Award, Aroostook Real Estate; 2022 Recreational Service Award, Corriveau Arctic Cat; 2022 Recreational Service Award, Fort Kent Powersports; 2022 Recreational Service Award, Roger's Sport Center; 2022 Entrepreneur Awards, Odds and Ends; 2022 Longevity Award, Frank Martin Sons; and 2022 Member of the Year Award, Acadia Federal Credit Union. 
Nichole Jandreau, owner of Odds and Ends, said she was "shocked" to receive the award for her home-based business. It offers a multitude of services true to the business' name, from grocery shopping and other errands such as post office or UPS drop-off to home organization including pantries, basements and game rooms. 
"I started Odds and Ends as a way to support my family and it has grown to be so much bigger than I'd imagined," she said. "It has given me the opportunity to serve my community and to help families in their most trying times."
Jake Robichaud owns Jake's Cleaning Service and is also a member of the Fort Kent Town Council. 
"I love this community and I was raised by people who love this community who were raised by people who love this community and I'm surrounded by people who love this community," Robichaud said while accepting the award. 
Acadia Federal Credit Union President Dave Desjardins dedicated the Member of the Year award to the 85 employees and 16,000 members who comprise the financial institution.
"We look forward to many more years and continued growth," Desjardins said. 
"Celebrating and networking with our fellow businesses is such an important part of a successful community, and which we definitely have in the greater Fort Kent area," 2020-2022 chamber board president Dawn Daigle said. 
The board of directors approved Tammy Delisle to take over as chamber president.