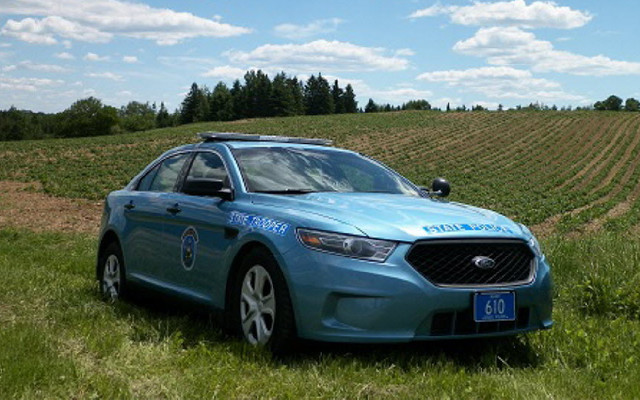 MSP_F
Maine State Police - Troop F - Aroostook County.
​​Maine State Police Troop F Report, Jan. 2-8, 2023
Editor's Note: An arrest or summons does not constitute a finding of guilt. An individual charged with a crime is presumed innocent unless and until proven guilty at criminal proceedings.
HOULTON, Maine — The Maine State Police Troop F barracks in Houlton responded to a number of calls for service during the period of Jan. 2-8, 2023, including the following.
Monday, Jan. 2
BLAINE — Cpl. Kilcollins was conducting traffic enforcement on Route 1 in Blaine and observed a vehicle with an expired inspection sticker. Cpl. Kilcollins stopped the vehicle and spoke with the female operator, who advised she did not have a license. Cpl. Kilcollins ran a license check on the female and her license came back as revoked. Cpl. Kilcollins charged the female with operating after revocation and had the vehicle towed.
OAKFIELD — Tr. Merchant received a complaint regarding a fuel drive-off at the Oakfield Irving. The manager of the store advised they just had a fuel drive-off by an empty log truck of $354 in fuel. They advised they did not believe the fuel drive-off was done on purpose. They advised the male hung around the store for over 40 minutes after pumping the fuel.
Tuesday, Jan. 3
MAPLETON — Tr. Roy was conducting traffic enforcement in Mapleton when he observed a vehicle with what he suspected was illegally attached plates.  After asking the dispatcher to conduct a registration query, it was confirmed the plates belonged to another vehicle.  Tr. Roy stopped the vehicle and after an investigation the driver admitted to taking the registration plates from a different vehicle and putting them on the one he was driving.  The man was issued a criminal summons for the violation.
SHERMAN — Tr. Saucier responded to the Sherman Irving for a report of a possible intoxicated driver. Tr. Saucier located the 48-year-old male parked in the parking lot. The male was not intoxicated but had a revoked Maine driver's license. The male was arrested for operating after revocation and bailed from the Houlton barracks.
Wednesday, Jan. 4
WESTFIELD — Tr. Roy was conducting traffic enforcement in Westfield when he observed a speeding vehicle.  Tr. Roy stopped the car and during his investigation found an active arrest warrant for the driver for failing to appear in court on assault and refusing to submit to arrest charges.  Tr. Roy explained to the man he had a warrant and took him into custody without incident.  The man was brought to a bail commissioner where he was able to post bail and was released.
CARIBOU — Tr. Roy was conducting traffic enforcement in Caribou when he observed a vehicle driving 83 mph in a posted 45-mph zone.  Tr. Roy stopped the vehicle and during his investigation, the driver stated it was a rental car and he was not familiar with driving that type of car.  Tr. Roy reduced the speed from criminal to a traffic infraction and issued the man a traffic summons for speeding.
SHERMAN — Tr. Saucier stopped a vehicle in Sherman for a traffic violation and found that the 19-year-old male's Maine license was under suspension. The male was charged accordingly. 
Friday, Jan. 6
CONNOR — Tr. Roy participated in an anti-bullying event at the school in Connor Township.  Tr. Roy spoke with classes from kindergarten to sixth grade on physical, mental and cyber bullying, to include reading a book to the younger grades about this topic.  Tr. Roy answered questions from students and staff and talked about having a positive self-image.
Saturday, Jan. 7
E TOWNSHIP —  Cpl. Kilcollins responded to a crash on E Plantation Road in E Township. At the scene Cpl. Kilcollins found a male who was slumped over the steering wheel. Cpl. Kilcollins opened the door of the pickup and attempted to wake the male. The male came to and was offered medical attention but refused. After a roadside investigation, Cpl. Kilcollins placed the male under arrest for operating under the influence. The male was found to be under the influence of drugs and was charged with operating under the influence of drugs. The male was on probation, a probation hold was put on him and he was transported to the Aroostook County Jail.