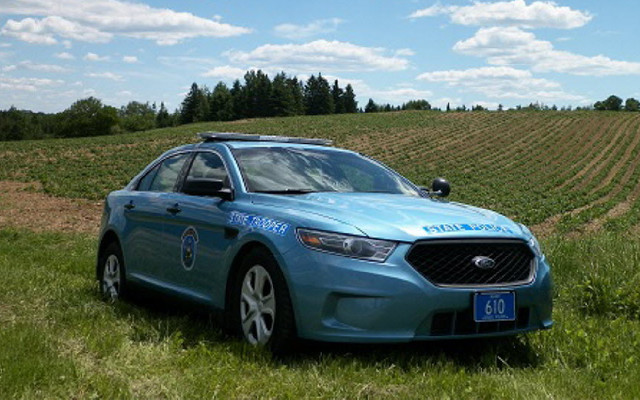 MSP_F
Maine State Police - Troop F - Aroostook County.
Maine State Police Troop F Report, Aug. 9-15 2021
Editor's Note: An arrest or summons does not constitute a finding of guilt. An individual charged with a crime is presumed innocent unless and until proven guilty at criminal proceedings.
HOULTON, Maine — The Maine State Police Troop F barracks in Houlton responded to a number of calls for service during the period of Aug. 9-15, including the following.
Monday, Aug. 9
VAN BUREN — Trooper Martin was notified by town officials that the Rec Center in Van Buren had been broken into. The crime was noticed after the center reopened on Monday. It appeared that a television and game console had been stolen from the building. The investigation is ongoing.
VAN BUREN — Tr. Martin met with a property owner in Van Buren after he had been having issues with former tenants of his property returning to the property without permission. The property had been an apartment complex in the past and the new owner did not want the former tenants on the property. They were located by Tr. Martin and issued trespass warnings.
AUGUSTA — Sgt. Haines spent the week of Aug. 9 as a firearms instructor in Augusta for the Maine State Police range week.
ST. AGATHA — Tr. Curtin responded to a traffic complaint at Wisdom High School in reference to a "derby" car that was operating erratically through the parking lot before breaking down. Tr. Curtin arrived within minutes of the call coming in and observed a pickup truck pulling up to the vehicle. As a result of his investigation, Tr. Curtin arrested the 29-year old Saint Agatha man for operating under the influence.
Tuesday, Aug. 10
VAN BUREN — Tr. Martin met with a local man in Van Buren after he had discovered that the catalytic converter had been stolen from a vehicle parked on a farmer's property. It was unclear when the item had been stolen, but the investigation into the theft is ongoing.
Thursday, Aug. 12
FRENCHVILLE — Tr. Desrosier was conducting traffic enforcement in Frenchville when he observed a vehicle make an illegal/unsafe pass and was speeding. Tr. Desrosier conducted a traffic stop, and after an investigation discovered the male driver had a suspended driver's license. There were others in the vehicle, and they were following their friends. The driver thought it would be funny to pass them and did so in a no-passing zone, speeding approximately 20 mph over the posted speed limit. He was issued a criminal summons for operating after suspension and a traffic summons for speeding. The man was issued a warning on the unsafe pass. The vehicle and occupants were picked up by a licensed driver.
MONTICELLO — Tr. Merchant stopped a vehicle in Monticello for a traffic violation. As a result of the stop, she arrested the operator, a 40-year-old Mars Hill man on a failure to appear warrant. The man was transported to the Troop F barracks, where he was bailed and released.
Friday, Aug. 13
VAN BUREN — Tr. Rider is currently investigating the theft of a catalytic converter that was stolen from a vehicle parked in Van Buren. The vehicle was older and had not been driven by the owner for quite some time. When he went to move the car, he discovered someone had cut the catalytic converter.
ST. FRANCIS — Tr. Martin, Tr. Levesque and Recruit Denver Roy responded to a St. Francis residence when neighbors reported hearing some arguing between people and then a gunshot shortly after. The owners of the property were located, and it appeared that the argument had been between their son and some people that had been allowed to stay on the property. The people involved in the incident were not cooperative and little information was able to be learned as to what had actually transpired at the incident, but it did not appear that anyone was injured.
Saturday, Aug. 14
EAGLE LAKE — Tr. Martin and Recruit Roy stopped a local man for having a defective headlight. While conducting the roadside investigation, they learned that the man was out on bail conditions and one of those conditions was that he was subject to a curfew. The man was out past his curfew hour and was summoned to Fort Kent District Court for violating his conditions of release.