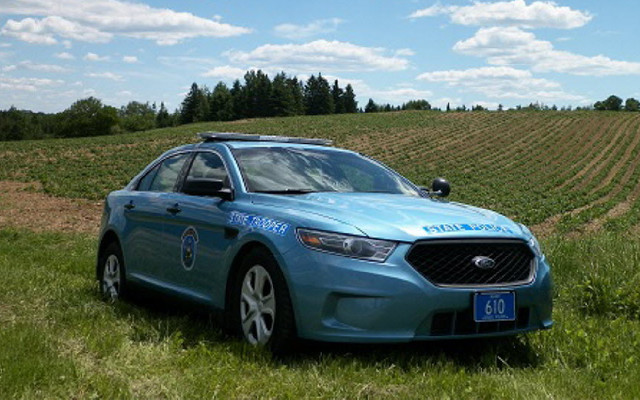 MSP_F
Maine State Police - Troop F - Aroostook County.
Maine State Police Troop F Report, May 3-9, 2021
Editor's Note: An arrest or summons does not constitute a finding of guilt. An individual charged with a crime is presumed innocent unless and until proven guilty at criminal proceedings.
HOULTON, Maine — The Maine State Police Troop F barracks in Houlton responded to a number of calls for service during the period of May 3-9, including the following.
Monday, May 3
HOULTON — Tr. Castonguay assisted U.S. Border Patrol with locating a motorcycle that had gone through the truck inspection lane at the Houlton Port of Entry at a high rate of speed and without stopping for inspection. Tr. Castonguay set up on the Interstate and located the motorcycle driving in excess of 150 mph. The information was passed to other law enforcement, to include the pilot of a Forestry Department helicopter that happened to be flying in the area. The motorcycle exited the Interstate in Medway and raced towards Millinocket. The man was eventually stopped by State Police and local officers. The man was arrested for eluding, driving to endanger, criminal speeding, and will also face a multitude of charges from federal officers.
Tuesday, May 4
HOULTON — Tr. Cotton cited of local man for operating after suspension and violating conditions of release. The man was pulled over by Tr. Cotton for having a loud exhaust and an obstructed plate. The other violations were discovered during the roadside investigation. The man was summoned to Houlton District Court for his offenses.
Wednesday, May 5
ALLAGASH — Tr. Martin responded to Allagash when a resident reported damage had been done to a building he owned. Tr. Martin determined that the damage had been the result of a crash that had not been reported. As his investigation unfolded, Tr. Martin was able to locate the operator and vehicle that had been involved. The owner was charged for operating after suspension, failure to report a crash, and leaving the scene of a personal injury crash.
ST. FRANCIS — Tr. Martin learned of a local man who had a warrant for his arrest for operating after suspension and failure to appear on drug charges. Tr. Martin located the man and arrested him without incident. He was transported to FKPD and later posted bail.
BRIDGEWATER — Tr. Mahon was monitoring traffic in Bridgewater when he observed a vehicle driving with no registration plates or inspection. Tr. Mahon stopped the vehicle and, as a result of the stop, issued the male operator summonses for no registration, inspection and insurance. The vehicle was towed from the scene. Tr. Mahon had stopped the same operator in a different vehicle two weeks prior and charged him with the same offenses.
BENEDICTA — Tr. Saucier took a report of a credit card that had been stolen in Benedicta. The woman reported she had lost her credit card in mid-April and she learned someone had been using it around the Sherman area. The card had been used at the Sherman Thriftway and they were able to capture the suspect on their surveillance camera. The investigation is ongoing. 
CASWELL — Cpl. Casavant responded to a residence in Caswell after a male called to report someone had threatened to shoot him. Cpl. Casavant met with the victim, who advised his father-in-law owned the housing complex and he had learned kids were throwing rocks at one of the houses. When the male went to check, one of the juveniles gave him a hard time and allegedly threatened to shoot him. Cpl. Casavant interviewed the juvenile, who denied threatening the caller. The case will be submitted for review.
Thursday, May 6
NEW CANADA — Tr. Martin responded to a New Canada business when the owner reported a theft. Tr. Martin learned that a local woman had turned in a slip for the redemption of bottles but had falsified the document to indicate that she had returned more bottles than she actually had. Tr. Martin located the woman and spoke with her regarding the incident. Once the incident had been investigated, the owner was repaid the money that had been stolen and decided that since the person had repaid the money, they did not want to pursue any charges.
Saturday, May 8
SINCLAIR — Tr. Desrosier was conducting traffic enforcement in Sinclair when he observed a vehicle with poor operation. Tr. Desrosier stopped the vehicle and investigated to include field sobriety testing. No impairment was detected; however, the man had a suspended driver's license. Tr. Desrosier issued him a criminal summons for the violation and helped him arrange to have a licensed driver come get him and the vehicle.
PRESQUE ISLE — Cpl. Casavant participated in a funeral procession for a local man who had suffered from a rare muscular disorder. Presque Isle Police and Fire Departments had made the 35-year old Presque Isle man an honorary police officer and firefighter in January of 2021. 
PATTEN — Tr. Saucier took a call direct from a store in Patten in reference to a shoplifting complaint. The owner of the store was able to identify the suspect through surveillance video. The investigation is ongoing and Tr. Saucier will locate and charge the male with theft.