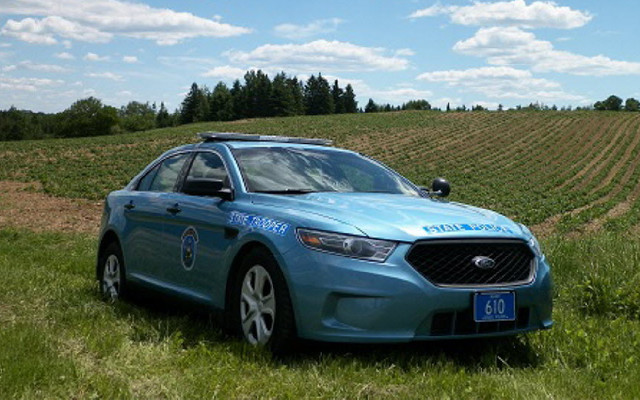 MSP_F
Maine State Police - Troop F - Aroostook County.
Maine State Police Troop F Report, April 19-25, 2021
Editor's Note: An arrest or summons does not constitute a finding of guilt. An individual charged with a crime is presumed innocent unless and until proven guilty at criminal proceedings.
HOULTON, Maine — The Maine State Police Troop F barracks in Houlton responded to a number of calls for service during the period of April 19-25, including the following.
Sunday, April 18
NASHVILLE PLANTATION — State Police received a report of a rollover crash on Route 11 in Nashville Plantation, just north of Ashland. Trooper Ted Martin responded to the crash, as did the Ashland Police Department, Fire Department and Ambulance Service. Tr. Martin's investigation revealed that 20-year-old Lindsey Brown of Eddington had been traveling north in a 2010 Chevrolet Aveo when she attempted to pass another vehicle. As she was in the process of passing the vehicle, Brown lost control of the vehicle she was driving, it rolled over, and came to rest on its roof in the roadway. Ms. Brown was able to exit the vehicle on her own and was treated at the scene for minor injuries. One lane of Route 11 was closed for a short period of time until the wreckage could be removed from the roadway. Speed and inexperience were contributing factors in the crash. As a result of the investigation, Brown was charged with Illegal Transportation of Alcohol, and Possession of Drug Paraphernalia, and Possession of Marijuana. The mother of the operator was also charged with furnishing the alcohol and marijuana to her daughter.
Monday, April 19
WALLAGRASS — Tr. Desrosier was conducting traffic enforcement in Wallagrass and met a vehicle driving 82 mph in a posted 45-mph zone. Tr. Desrosier stopped the vehicle and the operator stated he thought it was a 55-mph zone and offered no other excuse. Tr. Desrosier issued a criminal summons for the violation.
MONTICELLO — Tr. Mahon was monitoring traffic in Monticello when he stopped a vehicle for a traffic violation. As a result of the stop, Tr. Mahon charged a 63-year-old Monticello man with operating after suspension.
Tuesday, April 20
PATTEN — Tr. Saucier was monitoring traffic in Patten when he observed a male subject operating whom he knew to have a suspended license. Tr. Saucier stopped the vehicle and charged the 42-year-old Patten man with operating after suspension.
MAINE CRIMINAL JUSTICE ACADEMY — Tr. Sylvia spent the week of April 19 as an instructor at the MSP K-9 patrol school. 
Wednesday, April 21
MONTICELLO — Tr. Cotton took a call from an elderly woman who reported getting a call from someone who claimed to be from Medicare. The caller attempted to get personal information from the woman and made some lewd comments. The caller was assured that the call was from a scammer and Tr. Cotton spent some time educating the caller about scams and ensuring that no personal information should be released over the phone.
Friday, April 23
MONTICELLO — Tr. Kilcollins was working a traffic detail and observed a vehicle with an expired inspection certificate and expired vehicle registration. He stopped the car and further investigation revealed the driver had a suspended driver's license for OUI. The woman was issued a criminal summons for operating after suspension and operating with a suspended registration. The vehicle was towed from the roadway and the woman arranged to have a licensed driver come get her.
MONTICELLO — Tr. Cotton spoke with a Monticello landowner after learning that two individuals had been on his property that had been posted with no trespassing signs. The trespassing complaint stemmed from a prior theft complaint that Tr. Cotton had been working on. The investigation is ongoing with possible trespassing charges pending.
NEW CANADA — Tr. Curtin received information that a subject with three active warrants, including two with no bail was at a residence in New Canada. Tr. Curtin located the 21-year old New Canada man inside the garage and took him into custody. 
Saturday, April 24
EAGLE LAKE — Tr. Curtin was monitoring traffic on Route 11 in Eagle Lake when he stopped a vehicle for a traffic violation. As a result, Tr. Curtin charged the 42-year old Eagle Lake woman with operating after suspension.
Sunday, April 25
MAPLETON — Tr. Mahon took a theft report from a residence in Mapleton. The victim reported someone stole the battery out of her vehicle. ddA suspect was identified, and the investigation is ongoing.