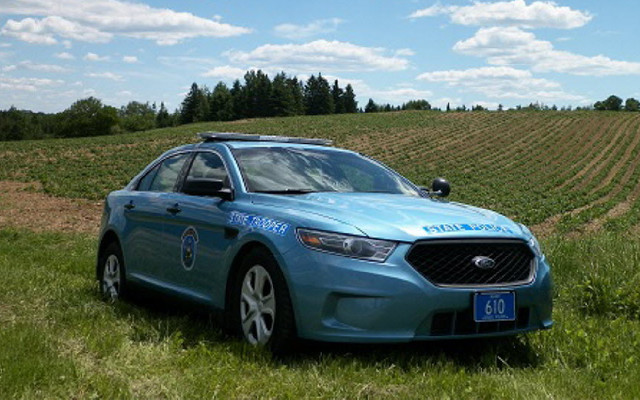 MSP_F
Maine State Police - Troop F - Aroostook County.
Maine State Police Troop F Report, April 26-May 2, 2021
Editor's Note: An arrest or summons does not constitute a finding of guilt. An individual charged with a crime is presumed innocent unless and until proven guilty at criminal proceedings.
HOULTON, Maine — The Maine State Police Troop F barracks in Houlton responded to a number of calls for service during the period of April 26-May 2, including the following.
Monday, April 26
FORT FAIRFIELD — Trooper Kilcollins assisted Fort Fairfield Police Department with arresting a noncompliant woman for trespassing and warrants. The Fort Fairfield officer requested assistance due to the woman's irrational behavior and refusing to follow instructions. Tr. Kilcollins arrived and tried to talk to the woman but she would not listen to the officers. After being told numerous times to leave the residence, she was arrested. The woman resisted the arrest but was eventually handcuffed. She was transported to Caribou PD for holding by Fort Fairfield PD.
MONTICELLO — Tr. Mahon was monitoring traffic in Monticello when he stopped a vehicle for an inactive expired license plate. As a result of the stop, Tr. Mahon charged a 44-year-old Houlton man with failure to register a motor vehicle Class E and violating condition of release Class E. The vehicle was towed from the scene.
Tuesday, April 27
ST. FRANCIS — Tr. Martin was in St. Francis when he saw a vehicle, being driven by a man he recognized, drive past him. Tr. Martin was aware that the operator's license was suspended. He followed him to a residence, and after speaking with him, also learned that there was a warrant for his arrest. He was arrested without incident and transported to Fort Kent Police Department and was later released on bail.
MERRILL — Cpl. Casavant took a theft report from a resident in Merrill. The victim reported she was trying to purchase something online and sent $196.99 to a person via Venmo. The person never sent the item and shut down their account online. The investigation is ongoing.
Wednesday, April 28
FORT KENT — Tr. Desrosier received a call from the court in Fort Kent stating there was a male there wanting to turn himself in on a warrant for violation of a protective order. Tr. Desrosier met with the man, arrested him, and transported him to Caribou PD, where he was held due to the Aroostook County Jail being closed due to COVID-19.
CARIBOU — Tr. Kilcollins was requested by Caribou PD to assist with a driver that was slumped over the steering wheel. Tr. Kilcollins arrived and, during the course of the investigation, he located a woman that was sleeping in a truck that had two active warrants. After Caribou PD dealt with the driver that was slumped over, Tr. Kilcollins arrested the woman on the warrants. She was transported to Caribou PD, where she posted bail.
HOULTON — Tr. Cotton was on routine patrol when he observed a go-cart being driven on a public way. He stopped the vehicle, and after speaking with the operator determined that his license was under suspension. He was charged with operating after suspension and the vehicle was returned to his residence.
Thursday, April 29
LUDLOW — Tr. Cotton responded to a Ludlow neighborhood when an altercation was reported to be ongoing between residents. He learned that a woman's horses had gotten loose and gone onto a neighbor's property. The horses were retrieved, and in doing so an argument ensued between the involved parties. Eventually the situation was resolved, and Tr. Cotton advised the owner of the horses that they could face charges in the future if the animals continued to get loose.
Friday, April 30
CRYSTAL — Tr. Cotton had been working on an investigation of a felony level violation of conditions of release earlier in the month. Once his investigation was completed, a warrant for arrest was issued for a local man. Tr. Cotton located the man and he was arrested without incident. He was transported to the barracks where he was bailed with more conditions put in place.
Sunday, May 2
LITTLETON — Tr. Mahon stopped a vehicle in Littleton after running a registration check on the vehicle and learning the registered owner had a suspended driver's license. As a result of the stop, Tr. Mahon charged the 38-year old Caribou woman with operating after suspension.
SMYRNA — Tr. Sylvia responded to a residence in Smyrna for a criminal mischief complaint. The owner of the residence advised he believed someone had tried to break into his garage and as a result, broke the window. Nothing appeared to be missing and the investigation is ongoing.