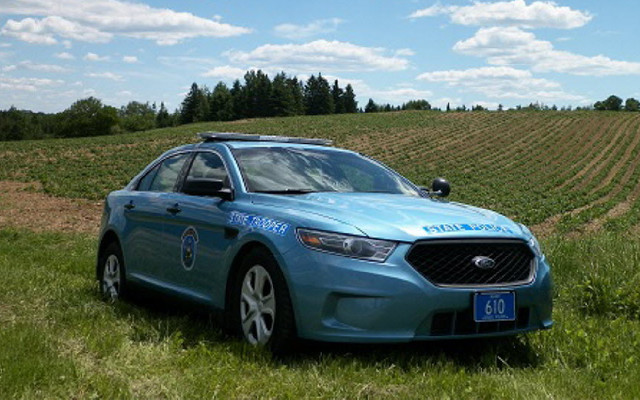 MSP_F
Maine State Police - Troop F - Aroostook County.
Maine State Police Troop F Report, April 12-18, 2021
Editor's Note: An arrest or summons does not constitute a finding of guilt. An individual charged with a crime is presumed innocent unless and until proven guilty at criminal proceedings.
HOULTON, Maine — The Maine State Police Troop F barracks in Houlton responded to a number of calls for service during the period of April 12-18, including the following.
Tuesday, April 13
LITTLETON — Cpl. Quint responded to Littleton to assist U.S. Border Patrol agents with a traffic stop. A vehicle was acting suspiciously near the old border crossing in Littleton, so agents conducted a traffic stop to investigate. During the stop, it was discovered the woman was in possession of methamphetamines and drug paraphernalia. Cpl. Quint issued the woman a criminal summons for the violation.
MADAWASKA LAKE TOWNSHIP — Tr. Curtin took a report of ongoing harassment in Madawaska Lake Township. The caller reported their neighbor at their camp was throwing rocks at their fence and yelling vulgar names at them. Troop F had dealt with a similar complaint between the parties in the fall of 2020, but the victims did not want the suspect to be confronted. They advised this time they would like enforcement action against the man. Tr. Curtin met with the 66-year-old man and served him a harassment notice without incident. 
Wednesday, April 14
WOODLAND — Tr. Rider was conducting traffic enforcement in Woodland and observed a vehicle with a defective light. Tr. Rider stopped the vehicle and further investigation revealed the driver had a suspended driver's license and the registration plates were falsely attached. Tr. Rider issued the man a criminal summons for both violations and helped the man get a ride home. The vehicle was towed from the roadway by a local wrecker company.
SHERMAN — Tr. Saucier conducted a bail search on a 21-year-old East Millinocket woman after locating her at a motel in Sherman. The female failed a urine test and was arrested for violating condition of release as well as two sealed warrants. 
VAN BUREN — Cpl. Casavant took a trespass complaint from Northern Railway in Van Buren. They reported they had been having issues with people driving through their posted property while employees were operating heavy machinery, as well as people walking on the railroad tracks. Cpl. Casavant sent an email to Troop F as well as the Sheriff's Department and Maine Warden Service to make them aware.
Thursday, April 15
SHERMAN — Tr. Castonguay was called to a residence in Sherman to investigate a suspicious incident. A homeowner called reporting they had just returned home, and the garage door was open. They were unsure if anyone was inside or if anything was missing. During the investigation, it was discovered that the male resident had a warrant for his arrest due to a previous domestic violence incident. Tr. Castonguay arrested the man without incident and transported him to the Penobscot County Jail due to the Aroostook County Jail being closed due to COVID-19.
PATTEN — Tr. Saucier was traveling through Patten when he saw a 32-year-old Patten man walking down the road. Tr. Saucier was familiar with the subject and knew he had an active no-bail warrant for his arrest. Tr. Saucier took the male into custody without incident and he was transported to the Penobscot County Jail. 
Friday, April 16
FRENCHVILLE — Tr. Desrosier was conducting traffic enforcement in Frenchville and observed a vehicle not displaying a valid inspection certificate. Tr. Desrosier stopped the vehicle and discovered the registration plates were falsely attached. Tr. Desrosier issued a criminal summons for the violation and arranged for the driver to remove the vehicle from the roadway.
PRESQUE ISLE — Tr. Saucier taught the breath testing device certification and recertification course for several Aroostook County law enforcement agencies.