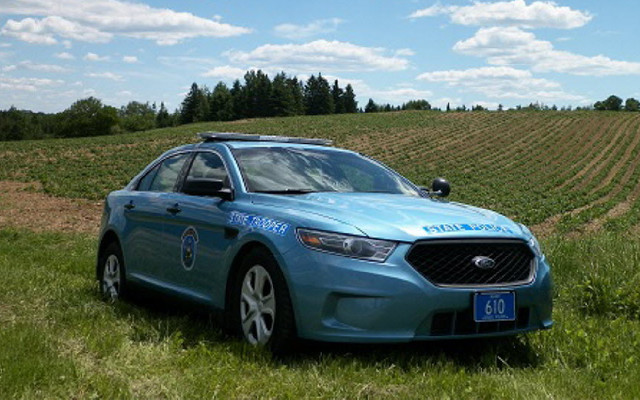 MSP_F
Maine State Police - Troop F - Aroostook County.
Maine State Police Troop F Report, March 1-7, 2021
Editor's Note: An arrest or summons does not constitute a finding of guilt. An individual charged with a crime is presumed innocent unless and until proven guilty at criminal proceedings.
HOULTON, Maine — The Maine State Police Troop F barracks in Houlton responded to a number of calls for service during the period of March 1-7, including the following.
Monday, March 1
OAKFIELD — State police received several calls reporting a wrong-way driver in the area of Oakfield on I-95. Initial responses by troopers were not successful in finding any driver operating the wrong way on the interstate. Later during the day, a broken-down vehicle was found, and Tr. Cotton learned that a separate operator had been attempting to assist the owner of the broken-down vehicle and had ended up driving in the wrong direction from a nearby exit in order to provide assistance to the motorist. The operator was identified by Tr. Cotton and cited for operating the wrong direction on the divided highway. 
Tuesday, March 2
GRAND ISLE — Tr. Desrosier was driving through Grand Isle and observed a vehicle not displaying registration plates. He conducted a traffic stop and learned that the driver/vehicle owner had a suspended driver's license. Tr. Desrosier issued the man a criminal summons for operating after suspension and for having an unregistered motor vehicle. The man was able to arrange to have someone tow the vehicle for him.
BRIDGEWATER — Members of Troop F responded to several crashes during a storm in Aroostook County. Sgt. Haines responded to a multi-vehicle crash on Route 1 in Bridgewater. Poor visibility from heavy winds and blowing snow caused several cars to become stuck, and then were struck when other motorists could not see them. Sgt. Haines sustained minor damage to his cruiser when a vehicle slid into his cruiser while he was investigating the initial crash. Several main roads had to be closed off due to the dangerous conditions. Tr. Flynn's cruiser was also struck by another motorist in whiteout conditions while Tr. Flynn was assisting Troop F with crashes.
Wednesday, March 3
OAKFIELD — Tr. Castonguay was assisting the Aroostook County Sheriff's Office with an investigation when they had probable cause to arrest a man for a bail violation. Tr. Castonguay and the deputy had been looking for the suspect. While checking a residence in Oakfield, Tr. Castonguay heard noise from the rear of the residence and went to investigate. The suspect was running from the rear of the house but was quickly apprehended by Tr. Castonguay. The man was transported to the Aroostook County Jail in Houlton by Tr. Castonguay.
MONTICELLO — Tr. Mahon was monitoring traffic on Rt. 1 in Monticello when he ran a registration check on a vehicle. The registration information did not match the description of the vehicle. Tr. Mahon conducted a traffic stop on the vehicle and confirmed the plates were illegally attached and the female operator was currently under suspension. Tr. Mahon charged the 37-year old Bridgewater woman with operating after suspension and illegal attachment of plates.
Friday, March 5
MARS HILL — A bail check was conducted at a residence in Mars Hill. Nothing illegal was found at the house. The man was asked to submit to a drug screening per his bail conditions, but he refused to give a sample and was arrested. The man was transported to the Aroostook County Jail for a felony violation of his conditions of release.