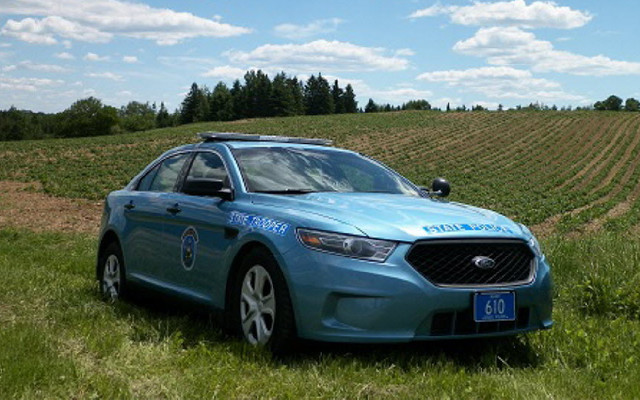 MSP_F
Maine State Police - Troop F - Aroostook County.
Maine State Police Troop F Report, March 8-14, 2021
Editor's Note: An arrest or summons does not constitute a finding of guilt. An individual charged with a crime is presumed innocent unless and until proven guilty at criminal proceedings.
HOULTON, Maine — The Maine State Police Troop F barracks in Houlton responded to a number of calls for service during the period of March 8-14, including the following.
Monday, March 8
YORK — Trooper Cotton attended a weeklong crisis negotiation team training program instructed by the FBI.
MAPLETON — Tr. Mahon responded to an apartment complex for a theft report. A resident reported there had been a package stolen from the mailroom. Video footage at the complex showed a female resident going into the mailroom and going back into her apartment with the package. As a result of Tr. Mahon's investigation, he charged the 42-year old woman with theft. 
WESTON — Tr. Sylvia responded to a vehicle parked sideways blocking a road in Weston. Tr. Sylvia located the vehicle and learned the vehicle had been reported stolen in Lincoln. There was nobody with the vehicle when he arrived. The vehicle was towed back to Lincoln for processing. 
Tuesday, March 9
HOULTON — Sgt. Haines provided instruction at the 200-hour pre-service course hosted by the Houlton Police Department. Sgt. Haines taught use of force to the 13 students.
WESTFIELD — Tr. Mahon received an anonymous report of a suspended driver in Westfield. Tr. Mahon was able to locate the suspect and conducted a traffic stop. Tr. Mahon charged the 59-year old Westfield man with operating after suspension. 
Thursday, March 11
PATTEN/MT. CHASE — Cpl. Quint received five separate reports of catalytic converter thefts from vehicles in Patten and Mt. Chase. Cpl. Quint is working on possible leads in these thefts. 
OAKFIELD — Cpl. Quint received a report of a theft of a snowblower in Oakfield. Cpl. Quint learned that the man let a couple borrow the snowblower and now the woman who lives with them will not return it. Cpl. Quint responded to the residence and arranged for the man to get his snowblower. 
Sunday, March 14
VAN BUREN — Tr. Rider was conducting traffic enforcement in the town of Van Buren when he conducted a traffic stop on a vehicle for not displaying a front registration plate. The driver was on bail conditions that included a curfew of 7 p.m. to 6 a.m. Tr. Rider issued the man a summons for violation of his conditions of release due to it being after 7 p.m.
SHERMAN — Tr. Saucier took a call from a local gas station in Sherman reporting a suspicious female in the store that was making strange comments and making the employee nervous. Tr. Saucier located the 47-year old Sherman woman and issued her a criminal trespass notice.
MARS HILL — A case with two firearms was turned into the Houlton barracks after a motorist saw it fall off a vehicle in Mars Hill. Lt. Harris saw a Facebook post where someone reported losing two guns. Tr. Sylvia was able to verify they were the correct guns and returned them to the owner.