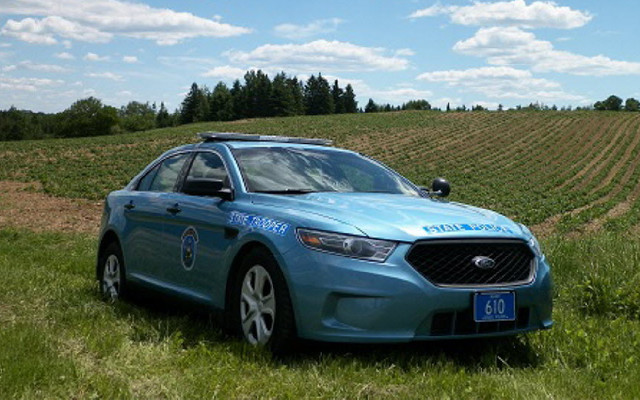 MSP_F
Maine State Police - Troop F - Aroostook County.
Maine State Police Troop F Report, March 22-28, 2021
Editor's Note: An arrest or summons does not constitute a finding of guilt. An individual charged with a crime is presumed innocent unless and until proven guilty at criminal proceedings.
HOULTON, Maine — The Maine State Police Troop F barracks in Houlton responded to a number of calls for service during the period of March 22-28, including the following.
Monday, March 22
CARIBOU — Trooper Desrosier was driving through Caribou when he observed a vehicle with a defective windshield and the driver and passenger windows were covered in plastic. Tr. Desrosier also noticed the vehicle did not have a valid inspection certificate. Tr. Desrosier conducted a traffic stop on the vehicle and investigated. The driver, who had conditions of release, was issued two criminal summonses (operating defective motor vehicle and violating condition of release) and was issued a traffic summons for not having insurance on the vehicle and for it not being inspected. The vehicle was towed from the roadway and the driver had his mother come get him.
MONTICELLO — Tr. Cotton arrested a local man on an outstanding warrant for violation of a protective order. The man was located at a residence and arrested without incident. He was transported to the Aroostook County Jail and booked in on his charge.
OAKFIELD — Tr. Barnard was called to an Oakfield property when a homeowner had been made aware that his property had been broken into. The owner of the property is compiling a list of items that were stolen and the investigation is ongoing. Tuesday, March 23
WALLAGRASS — Tr. Martin responded to an apartment complex in Wallagrass and dealt with neighbors who had made repeated complaints against each other. Tr. Martin spoke to all involved parties and attempted to resolve the issues that revolved from living in a small apartment complex. He referred the parties to their landlord and attempted to get the parties to make an attempt to be more tolerant with each other.
FORT KENT — Tr. Martin arrested a local woman in Fort Kent. She had been wanted on an outstanding warrant involving an altercation in St. Francis earlier in the week. She was arrested without incident and conditions of bail were put in place prior to her release from custody.
Wednesday, March 24
VAN BUREN — Cpl. Michaud checked on a local man when an acquaintance of his reported some concerning behavior that had transpired recently. Cpl. Michaud was not initially able to locate the person, but after speaking with neighbors and other community members he learned that the man was fine and there were no issues.
Thursday, March 25
HODGDON — Tr. Mahon was working traffic in Hodgdon when he had occasion to stop a 36-year-old Wiscasset woman. The woman's license was under suspension and she was summonsed. Another licensed driver in the vehicle drove the car after the traffic stop. 
Friday, March 26
ISLAND FALLS — Tr. Saucier took a report of shoplifting from Jerry's IGA in Island Falls. As a result of the investigation a 45-year-old Island Falls man was charged with theft. The man just came to Maine after a prison sentence in Texas and has non-extraditable warrants in three other states. 
LINNEUS — Tr. Sylvia investigated a report of trespassing in Linneus. The neighborhood dispute involved some dead livestock and the person came on the property to take photos and posted them on Facebook. The homeowner was waiting on the ground to thaw to bury the animals. The man was issued a trespass warning and his concerns for the other animals was passed onto the state animal welfare officers. 
Saturday, March 27
FRENCHVILLE — Tr. Desrosier was conducting traffic enforcement in Frenchville when he observed a vehicle with a defective exhaust. Tr. Desrosier conducted a traffic stop and discovered the man had bail conditions with search and testing conditions. In plain view, there was a bottle of open liquor (prohibited per his bail) and further investigation found methamphetamines and drug paraphernalia. The man was issued a criminal summons for possession of schedule W drugs, drug paraphernalia, and violation of conditions of release. The man was also issued a traffic summons for having an open container in the vehicle.
PRESQUE ISLE — Tr. Mahon stopped a vehicle on Carmichael Street in Presque Isle for an expired inspection sticker. Tr. Mahon learned the operator had a suspended driver's license and was also on bail for operating under the influence. Tr. Mahon charged the 40-year-old Fort Fairfield man with operating after suspension and violating condition of release. A licensed driver was called to pick the vehicle and operator up. 
PATTEN — Tr. Saucier received a traffic complaint of a male subject with a suspended driver's license driving up and down Main Street in Patten on a dirt bike. Tr. Saucier monitored the area throughout the shift and was able to stop the dirt bike. Tr. Saucier charged the 18-year-old Patten man with operating after suspension.