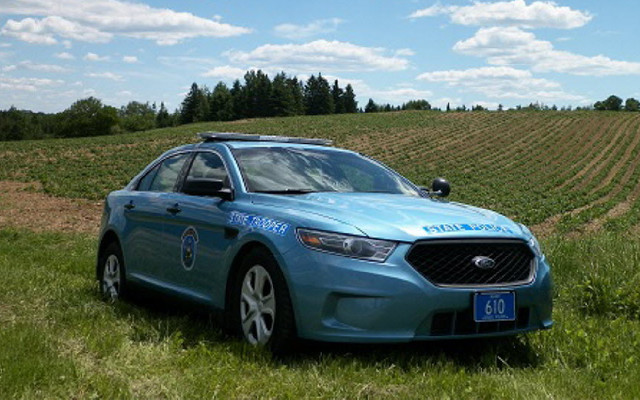 MSP_F
Maine State Police - Troop F - Aroostook County.
Maine State Police Troop F Report, March 15-21, 2021
Editor's Note: An arrest or summons does not constitute a finding of guilt. An individual charged with a crime is presumed innocent unless and until proven guilty at criminal proceedings.
HOULTON, Maine — The Maine State Police Troop F barracks in Houlton responded to a number of calls for service during the period of March 15-21, including the following.
Tuesday, March 16
STACYVILLE — Trooper Castonguay was conducting traffic enforcement in Stacyville and observed a vehicle that had an expired registration from October 2020. After conducting a traffic stop, it was discovered the driver had a suspended driver's license. The man was issued a criminal summons for the violation and arranged to have a licensed driver come get him and the vehicle.
ST. AGATHA — Tr. Desrosier assisted the Aroostook County Sheriff's Department with a vehicle refusing to stop in St. Agatha. The deputy attempted to stop the male driver for a traffic infraction and knew the man had a revoked driving status. Before Tr. Desrosier was able to join the chase, the man crashed his vehicle causing it to become disabled. The man suffered minor injuries and was taken to the Fort Kent Hospital for medical clearance before being transported to the Aroostook County Jail in Houlton.
VAN BUREN — Tr. Desrosier was conducting traffic enforcement in Van Buren and stopped a vehicle for an expired inspection certificate. An investigation determined the driver had a suspended driver's license and was in possession of drug paraphernalia. The passenger had an active arrest warrant for a previous conditional release violation. The driver was issued a criminal summons for operating after suspension and for the drug paraphernalia. The passenger was arrested on the warrant and taken to the old Van Buren Police Department where he posted bail. The vehicle was towed from the roadway.
Wednesday, March 17
NEW LIMERICK — Tr. Castonguay was driving through New Limerick when he observed a pickup with a broken frame. The female driver stated she was going to get some friends and asked if she could just drive the truck back to her residence in Smyrna. Tr. Castonguay had the truck towed from the roadway. The driver was issued a summons for operating a defective motor vehicle and for not having insurance.
NEW CANADA — Tr. Martin received a trespassing complaint from a local property owner. He met with the complainant in the case and reviewed surveillance footage of the property. After reviewing the footage, Tr. Martin was able to identify a local man who had been released from custody with several sets of conditions. As his investigation unfolded, it was learned that a surveillance camera had also been stolen. The man was located by Tr. Martin and transported to the Aroostook County Jail. He was charged with theft and violating conditions of release. More charges may be pending as the investigation is ongoing.
Thursday, March 18
ST. JOHN — Cpl. Michaud responded to a St. John residence when a woman reported a man was breaking into her residence. His investigation revealed that the pair were familiar with each other and he had broken in to take some of her belongings since she had a phone of his. Cpl. Michaud has not located the man yet, and the investigation is not complete, but he will be charged with burglary, theft and criminal mischief once he is located.
MASARDIS — Tr. Saucier has recently been investigating several catalytic converter thefts, one of which today was reportedly stolen from a vehicle parked at the Masardis Mill. Suspects have been developed and Tr. Saucier is looking for a vehicle and two people related to the crime spree. On March 21, Tr. Saucier and Tr. Sylvia arrested a 41-year-old Patten man and a 38-year-old Brownville woman for outstanding warrants. Their vehicle was towed and impounded in anticipation of a search warrant. 
ISLAND FALLS — Tr. Saucier received a report of theft from an apartment complex in Island Falls. Through video surveillance a suspect was identified. Tr. Saucier located and arrested the 62-year old Island Falls man after he confessed to the thefts. The property was returned, and the man was transported to the Aroostook County Jail, where he was denied bail. 
Friday, March 19
OAKFIELD — Tr. Hunter Cotton and Sgt. Chadwick Fuller responded to a crash in the northbound lanes of I-95 in Oakfield. Their investigation revealed that 32-year-old Audrey Violette was traveling north on the interstate when she became distracted by something in her vehicle. As she became distracted, Ms. Violette drifted into the adjacent lane and drove under the rear tractor wheels of a northbound tractor trailer being driven by 50-year-old Kenneth McNally. Her vehicle went under the rear wheels of the trailer, flipped over, and then skidded down the interstate, coming to rest on a guardrail. Ms. Violette was eventually helped of her vehicle by a good Samaritan. She was transported to Houlton Regional Hospital by ambulance with what appeared to be minor injuries. The crash remains under investigation; however, the primary cause is distraction.
FORT KENT — Tr. Curtin took a traffic complaint of a vehicle operating erratically on Route 161 in Madawaska Lake Township. Tr. Curtin set up for the vehicle and was ultimately able to locate it traveling on Caribou Road in Fort Kent. After following the vehicle for some distance, Tr. Curtin observed it cross the centerline and drift into the oncoming lane. A traffic stop was initiated and upon further investigation, the operator admitted he was texting. Tr. Curtin issued the male operator a summons for texting while operating a motor vehicle (first offense), Title 29A, Sec. 2119.
Sunday, March 21
NEW SWEDEN — Tr. Rider received information of a residence in New Sweden where the homeowner died, and the property is currently in probate. One of the family members involved is an officer from the Caribou Police Department. Tr. Rider learned that some "squatters" had broken into the house and had changed the lock. They stole a car that was parked in the driveway. Tr. Rider located the vehicle parked in a driveway in Woodland. Tr. Rider located the man that broke into the house and stole the vehicle; he was arrested without incident. The vehicle was recovered and turned over to the family. The family is working to better secure the residence.