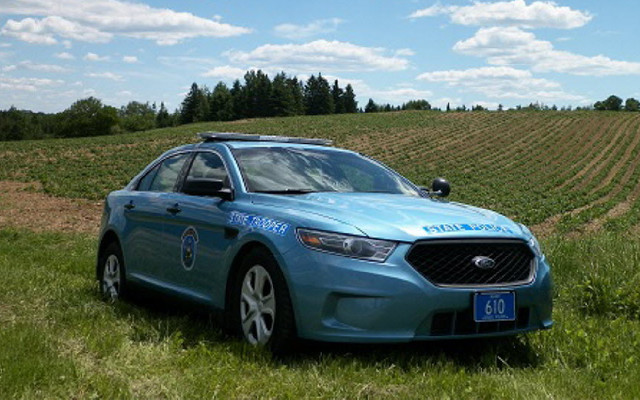 MSP_F
Maine State Police - Troop F - Aroostook County.
Maine State Police Troop F Report, February 8-14, 2021
Editor's Note: An arrest or summons does not constitute a finding of guilt. An individual charged with a crime is presumed innocent unless and until proven guilty at criminal proceedings.
HOULTON, Maine — The Maine State Police Troop F barracks in Houlton responded to a number of calls for service during the period of Feb. 8-14, including the following.
Monday, Feb. 8
WOODLAND — Cpl. Michaud responded to Woodland when a local man reported catching people on property that he oversaw. Cpl. Michaud was able to locate two men that had been on the property and determined that one of the men had attempted to steal some material from an old, abandoned vehicle in order to repair his own vehicle. The man had been unsuccessful due to snow depth and the condition of the vehicle. The owner chose to have the subjects warned for trespassing and told not to return.
Tuesday Feb. 9
FORT KENT — Trooper Desrosier was driving through Fort Kent when a vehicle crossed the centerline into his lane. Tr. Desrosier observed the male driver was looking down to the right and when he refocused on the road, he jerked the car back into the proper lane. Tr. Desrosier stooped the vehicle and discovered the man had a revoked license, attached false plates to the car, and was on bail. The man was issued criminal summonses for all violations and the vehicle was towed from the roadway.
Wednesday, Feb. 10
LINNEUS — Cpl. Michaud was contacted by a property owner when he was checking his property and found that someone had been trespassing on it and had cut a catalytic converter from an old vehicle on the property. The investigation is ongoing.
Thursday, Feb. 11
EAGLE LAKE — Tr. Martin was contacted by a representative of the owner of an apartment complex when a female that had been evicted had returned to the property and removed property without permission. His investigation revealed that the woman had not notified the owner of the property of her intention to return. Tr. Martin was able to locate the woman and a male subject that had been with her and charged them both with trespassing.
PRESQUE ISLE — Cpl. Michaud pulled over a local man when he clocked him on radar at 85 mph in a 45-mph zone. The man was late for work after having driven almost all the way in and discovering he had forgotten his face mask. The man was cited for his speed and allowed to return to work.
Friday, Feb. 12
HODGDON — Cpl. Quint was in Hodgdon and stopped a vehicle for speeding. During the traffic stop, it was discovered the driver had an active warrant for a domestic violence that occurred in Houlton. The man was arrested without incident and transported to the Aroostook County Jail in Houlton.
WADE — Tr. Rider went to an address in Wade to conduct a bail check on a man who had a curfew. Tr. Rider had information that the man continually was violating the conditions of his release. An investigation determined that man was in violation of his curfew, has not been staying at the address on his bail, and was at an unknown location. Tr. Rider has not been able to locate the male and a warrant will be issued for his arrest.
LINNEUS — Tr. Mahon responded to a residence in Linneus in reference to a fraud complaint. A female reported receiving an email about purchases on her Amazon account. She responded to the email and they instructed her to purchase 20 Google Play gift cards, which she did, totaling $1,700 in charges. She provided them with the numbers on the cards before becoming concerned it was a scam. The female was instructed to contact her credit card company and report the fraud. The investigation is ongoing. 
Saturday, Feb. 13
SMYRNA and SHERMAN — The Houlton Regional Communications Center received a report of a wrong-way driver on Interstate 95, Houlton. Cpl. Quint was able to get in front of the vehicle, into a crossover, and got the vehicle stopped. The driver stated he was not familiar with the area, was lost, and did not realize he was on the Interstate system. Tr. Castonguay arrived to assist and after speaking with the man for several minutes, he was summonsed for driving to endanger and released. No impairment was detected. About an hour later, a second report of a wrong-way driver was reported to Bangor Regional Communications Center in Medway. The vehicle, same description as the first report in Houlton, was driving north in the southbound lane. Before troopers could get the vehicle stopped, it ran out of gas. When Troopers Flynn and Castonguay tried speaking to the man this time, he was not coherent and could not answer simple questions. The man was arrested and transported to the Aroostook County Jail in Houlton. A drug recognition expert responded and determined the man was impaired by drugs. No one was injured in either incident.
PATTEN — Tr. Saucier received a report of a gas drive-off in Patten. The suspect paid for $40 worth of gas but actually pumped $52. The investigation is ongoing.