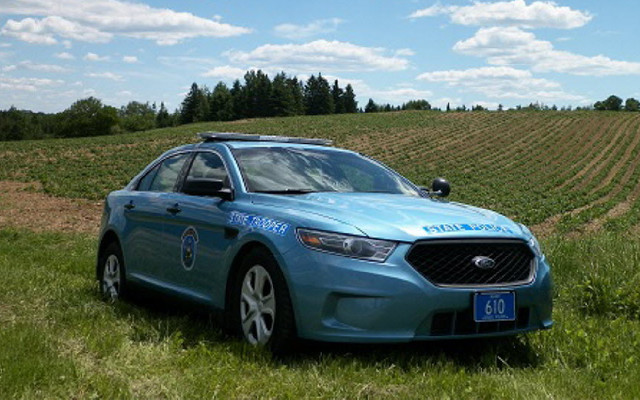 MSP_F
Maine State Police - Troop F - Aroostook County.
Maine State Police Troop F Report, Jan. 25-31, 2021
Editor's Note: An arrest or summons does not constitute a finding of guilt. An individual charged with a crime is presumed innocent unless and until proven guilty at criminal proceedings.
HOULTON, Maine — The Maine State Police Troop F barracks in Houlton responded to a number of calls for service during the period of Jan. 25-31, 2021, including the following.
Tuesday, Jan. 26
WOODLAND — Trooper Rider responded to a residence in Woodland for a report that a female had broken the door glass to his residence. Tr. Rider interviewed the man and learned that the female had borrowed his car but refused to return it. He found the car that night in Caribou and took possession of it. The female and a male friend arrived at his house and the female used a shovel and hit the window causing it to break. The man stated that he didn't want to press charges but wanted the female to leave him alone. Tr. Rider attempted to locate the male and female but was not able to. There was no charge.
MARS HILL — Tr. Kilcollins was responding to a two-vehicle crash involving a deputy for the Aroostook County Sheriff's office. When Tr. Kilcollins was passing a convenience store in Mars Hill he observed a pickup spinning in circles near the pumps in the parking lot. Tr. Kilcollins pulled into the convenience store and spoke with the male operator. The man was upset because he was trying to purchase gasoline and cigarettes at closing time, and they refused to sell to him. Tr. Kilcollins wrote the man a summons for driving to endanger. The man was released.
CRYSTAL — Tr. Saucier took a report of a theft of a firearm from a residence in Crystal. The victim reported her daughter's estranged husband took the firearm and sold it to another male in the area. As a result of Tr. Saucier's investigation, a 32-year old Patten male was charged with Theft Class B, violating condition of release Class E and tampering with a witness Class C. Tr. Saucier also charged a 49-year old Stacyville man with theft Class B and illegal possession of a firearm Class C. Tr. Saucier has requested a warrant for the third suspect, a 28-year old Patten man, for receiving stolen property Class B, violating condition of release Class E and illegal possession of a firearm Class C. Tr. Saucier was able to recover the firearm.
VAN BUREN — Sgt. Haines and Cpl. Casavant responded to a residence in Van Buren in reference to an assault. A female reported her neighbor was at her apartment and attacked her. As a result of the investigation, a 37-year old female was arrested for assault as well as an outstanding warrant for failure to appear on a disorderly conduct charge. 
MADAWASKA — On Nov. 18, 2020, Tr. Curtin began an investigation into a male subject trying to purchase a firearm in Caribou who was subsequently denied during the national instant criminal background check for having a warrant in another sate. As a result of Tr. Curtin's investigation, probable cause was developed to believe the suspect was currently in possession of other firearms. On Jan. 26, Tr. Curtin, Sgt. Haines and Cpl. Casavant executed a search warrant at the man's home in Madawaska. A handgun was seized during the search warrant and the 27-year-old male was charged with illegal possession of firearm (for certain prohibited persons) Class D.
Thursday, Jan. 28
WOODLAND — Tr. Rider assisted Caribou Police Dept. with arresting a man who was wanted on felony thefts. Tr. Rider located the man at his residence in Woodland and took the man into custody. Tr. Rider transported the man to the Caribou Police Department and turned him over to them. 
Friday, Jan. 29
STACYVILLE — Tr. Barnard responded to a Stacyville residence after receiving a report the property had been burglarized. The owner of the home had passed away and a friend was checking on the property and discovered the criminal activity. Information has been developed in the investigation and it is active and ongoing.
MARS HILL — Tr. Mahon conducted a traffic stop in Mars Hill for a traffic violation. As a result of the stop, Tr. Mahon arrested the operator, a 28-year old Mars Hill woman on multiple warrants. The woman also charged with operating after suspension, violating condition of release and illegal attachment of plates.
Saturday, Jan. 30
EAGLE LAKE — Tr. Martin responded to an Eagle Lake apartment complex in the early morning hours for a noise complaint. Residents had complained about loud music coming from one of the apartments. The specific apartment had multiple noise complaints made against it by several neighbors. The subject who rented the apartment was not immediately located but will be charged with disorderly conduct once they are found.
LUDLOW — Tr. Sylvia was monitoring traffic on Interstate 95 when he stopped a vehicle traveling 111 mph in the posted 75-mph zone. Tr. Sylvia charged the operator, a 24-year old woman from Houlton, with criminal speed. 
Sunday, Jan. 31
BLAINE — Tr. Mahon assisted Houlton Police Department with a theft investigation. Houlton PD requested he go to a residence in Blaine to attempt to speak with a female about who may have been using her car during the theft. They had surveillance photos of a male subject, but he was wearing a mask due to COVID-19 restrictions. Tr. Mahon was able to identify the suspect as a 38-year old male who was the registered owner's boyfriend. Tr. Mahon charged the man with theft and recovered the stolen items for Houlton PD.