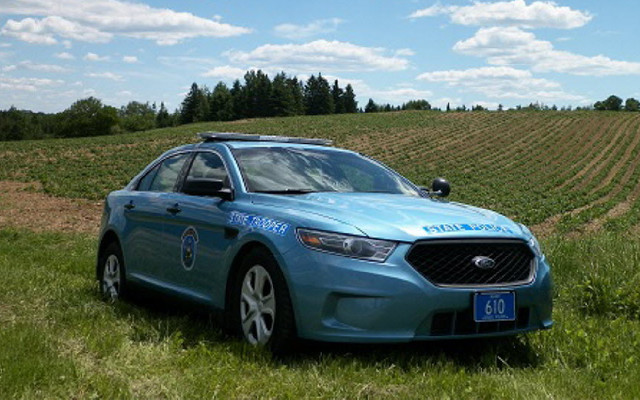 MSP_F
Maine State Police - Troop F - Aroostook County.
Maine State Police Troop F Report, Jan. 4-10, 2021
Editor's Note: An arrest or summons does not constitute a finding of guilt. An individual charged with a crime is presumed innocent unless and until proven guilty at criminal proceedings.
HOULTON, Maine — The Maine State Police Troop F barracks in Houlton responded to a number of calls for service during the period of Jan. 4-10, 2021, including the following.
Monday, Jan. 4
HODGDON — While working on an ongoing criminal investigation, Trooper Rider pulled over a vehicle in Hodgdon. During the course of his investigation he learned that the female operator had a suspended license and had illegally attached license plates to the vehicle she was driving that did not belong on it. She was charged for her violations and was picked up by friends who were allowed to take her and her passengers home.
Tuesday, Jan. 5
MASARDIS — Tr. Cotton responded to Masardis when a local resident reported that a vehicle had been stolen from her property. The vehicle had last been seen several days before it had been noticed missing. The investigation is ongoing.
Thursday, Jan. 7
ST. AGATHA — Tr. Desrosier was outside his cruiser at a local store in St. Agatha and observed a vehicle come into the parking lot. Tr. Desrosier recognized the male driver and knew the Madawaska Police Department had recently issued the man a criminal summons for operating after suspension. Tr. Desrosier approached the man and he stated he paid his fines and should have a valid license. A computer query showed the man had not paid his fines and had an additional administrative suspension. He was issued a criminal summons for operating after suspension and called a licensed driver to come get him and his vehicle.
Friday, Jan. 8
PATTEN — The Penobscot County Sheriff's Department requested assistance with a man fleeing from them. A deputy tried to stop a man with active arrest warrants operating a dirt bike. The suspect crashed the bike on the roadway and fled into the woods. Tr. Castonguay arrived and started checking the area while waiting for a K-9 unit to arrive. Tr. Castonguay located the man as he tried to enter a residence belonging to one of his friends. The man tried to flee from Tr. Castonguay but was quickly apprehended. The Penobscot deputy transported the man, who is on probation, to the Penobscot County Jail in Bangor.
Saturday, Jan. 9
GRAND ISLE — Tr. Desrosier was driving through Grand Isle and observed a pickup with an expired inspection certificate. He recognized the male driver and knew he had a suspended driver's license. Tr. Desrosier conducted a traffic stop and discovered the man illegally attached a registration plate to the vehicle. The truck had numerous defects preventing it from passing inspection and being safe for operation. Tr. Desrosier issued the man summonses for operating after suspension, false attachment of plates and operating a defective motor vehicle. The man arranged to have the vehicle towed back to his residence.
Sunday, Jan. 10
MONTICELLO — Cpl. Quint investigated a theft from the local store in Monticello. The owner reported a local man coming in almost daily over the past week and stealing beer and newspapers. Cpl. Quint was at the store and spoke with the suspect. He was trying to leave the store with beer he had not paid for concealed in his jacket. The man was issued a criminal summons for theft.
CRYSTAL — Tr. Castonguay investigated a reported assault in Crystal. The victim stated he was speaking with a neighbor regarding property lines and snow removal. The men started arguing and the offender used his shoulder to shove the victim. Tr. Castonguay issued the offender a criminal summons for assault and told both men not to have contact with each other.
Case solved
Tr. Mahon closed an assault case that occurred in Hammond in December in which a male was attacked by several people. The investigation resulted in the following charges: 20-year old Ludlow male, assault, Class D; 27-year-old Linneus male, assault, Class D; and 20-year-old Houlton male, discharge of a firearm near a dwelling or building, Class E.