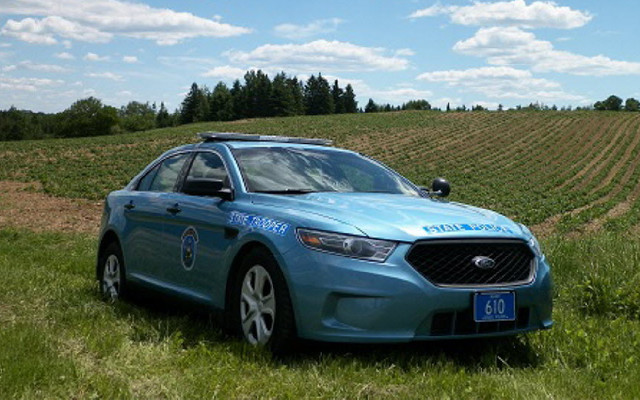 MSP_F
Maine State Police - Troop F - Aroostook County.
Maine State Police Troop F Report, Nov. 30-Dec. 6, 2020
Editor's Note: An arrest or summons does not constitute a finding of guilt. An individual charged with a crime is presumed innocent unless and until proven guilty at criminal proceedings.
HOULTON, Maine — The Maine State Police Troop F barracks in Houlton responded to a number of calls for service during the period of Nov. 30-Dec. 6, 2020, including the following.
Monday, Nov. 30
MAPLETON — Cpl. Casavant took a theft report from a residence in Mapleton. The victim advised they had several pieces of scrap metal taken from behind the property. As a result of the investigation, Cpl. Casavant charged a 26-year-old Caribou man with theft. The scrap metal was located and returned to the victim.
Tuesday, Dec. 1
SMYRNA — Tr. Cotton spoke with a local resident when after he reported getting a suspicious message. The subject reported getting a photo texted to his phone of some individuals that looked like they had been killed and this person demanded money from the victim and if he did not pay him, there would be trouble for him. The picture appeared to be fake and it was explained to the man that this was a scam attempting to get money from individuals. The number appeared to be a self -generated online one.
Wednesday, Dec. 2
LITTLETON — Cpl. Quint was gassing his cruiser in Littleton when a vehicle pulled up to the pump next to him. The female driver got out of the vehicle and asked Cpl. Quint if he could assist her in opening her gas cap. Cpl. Quint aided the woman, recognized her, and knew she did not have a driver's license. The woman was issued a criminal summons for operating without a license. She was able to find a licensed driver to come get her, her friends, and the vehicle.
Thursday, Dec. 3
CARIBOU — Sgt. Clark heard radio traffic from the Caribou Police Department indicating they may be chasing a motorcycle. Caribou PD stated they stopped chasing the motorcycle and their officer was going to see if the driver, due to the high speed he was going, was able to negotiate a curve in the roadway. Their officer found the motorcycle had crashed. Sgt. Clark responded to the crash scene to assist with the investigation. The man's injuries were not life-threatening. 
SHERMAN — Tr. Saucier took a theft report from a residence in Sherman. The victim reported several catalytic converters had been taken from a garage over a period of time. The investigation is ongoing.
HODGDON — While assisting Tr. Endre with some burglary follow-up in Hodgdon, Tr. Sylvia had occasion to charge a 50-year old Presque Isle woman with violating condition of release. Tr. Endre's burglaries were solved with a confession. 
Friday, Dec. 4
OAKFIELD — Tr. Castonguay investigated a complaint of a protective order violation. The complainant reported that the man listed on the order was not supposed to be in possession of firearms and he has been hunting. Tr. Castonguay found that a Game Warden issued the man a civil summons for having a loaded firearm in a vehicle. Tr. Castonguay interviewed the man and determined there was in fact a protection order violation from back in October. The man was issued a criminal summons for the violation.
OAKFIELD — Tr. Castonguay assisted a Maine Forest Ranger with an investigation in Oakfield. The ranger was patrolling his assigned area and noticed smoke near a camp (not from a chimney or fireplace) and went to investigate. It was found the property owner was burning prohibited material (oil filter, plastic, etc.) and refused to cooperate with the ranger. Tr. Castonguay responded to assist due to the man becoming agitated. The man refused to sign the summons he was issued for burning prohibited material and, after being told by Tr. Castonguay he could be arrested for refusing to sign the summons, he took it and scribbled in the signature block. It was later found by the ranger the man did not sign his name and wrote an obscenity on the ticket.
GRAND ISLE — Tr. Levesque assisted Warden Ryan Fitzpatrick in Grand Isle when a concerned citizen called and reported that a moose appeared to have gotten stuck in some wire. The moose was located and was indeed tangled in some wire. Tr. Levesque was used as a decoy to distract the moose while Wdn. Fitzpatrick used bolt cutters to cut the wire and free the moose.