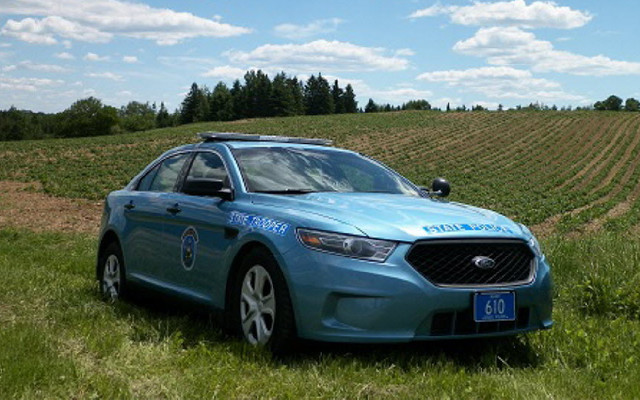 MSP_F
Maine State Police - Troop F - Aroostook County.
Maine State Police Troop F Report, Nov. 9-15, 2020
Editor's Note: An arrest or summons does not constitute a finding of guilt. An individual charged with a crime is presumed innocent unless and until proven guilty at criminal proceedings.
HOULTON, Maine — The Maine State Police Troop F barracks in Houlton responded to a number of calls for service during the period of Nov. 9-15, 2020, including the following.
Tuesday, Nov. 10
CASTLE HILL — Tr. Kilcollins investigated a single-vehicle crash in Castle Hill. A man was driving, struck a utility pole and then went into a culvert. The vehicle went end over end and came to rest in a ditch. Tr. Kilcollins investigated the scene and spoke with the driver, who stated he believed he blacked out and was not sure what happened. The man was transported to the hospital in Presque Isle for a broken arm, broken leg and internal injuries that were not suspected to be life threatening. Tr. Kilcollins will be issuing criminal summonses to the driver for possession of schedule drugs (2 counts, both class C) and for operating without a driver's license, once the man is released from the hospital. 
PRESQUE ISLE — Sgt. Clark was driving through Presque Isle and observed a vehicle driving at an excessive speed. The vehicle was driving 90 mph in a posted 55-mph zone. Sgt. Clark stopped the car and after an investigation found the driver also had a suspended Maine driver's license. The man admitted to knowing his license was suspended and that he was driving 90 mph. Sgt. Clark issued a criminal summons to the driver for OAS and exceeding the posted speed limit by 30 mph or more. The man arranged to have a licensed driver come get him and the car.
OAKFIELD — Tr. Saucier took a report of a vehicle theft on Nov. 6. As a result of the investigation, Tr. Saucier charged a 24-year old Houlton male with unauthorized use of property, Class D; motor vehicle theft, Class C; theft of a firearm, Class B; possession of firearm by prohibited person, Class C; and violating condition of release, Class E.
Thursday, Nov. 12
MERRILL — Cpl. Casavant took a theft report from a residence in Merrill. The victim reported items missing as well as damage to a vehicle that was parked in the driveway. The investigation is ongoing. 
Saturday, Nov. 14
ST. AGATHA — Tr. Desrosier was driving through St. Agatha and observed a vehicle with poor operation. Tr. Desrosier stopped the vehicle and suspected the man was impaired. After conducting field sobriety testing, he arrested the man for ouix for OUI and transported to Madawaska PD for a breath test. The man was able to post bail and was released.
CROSS LAKE — Tr. Curtin took a criminal mischief at a residence in Cross Lake. The victim reported a 34-year old male had spray painted his residence. Tr. Curtin was unable to locate the male in the area. The investigation is ongoing.