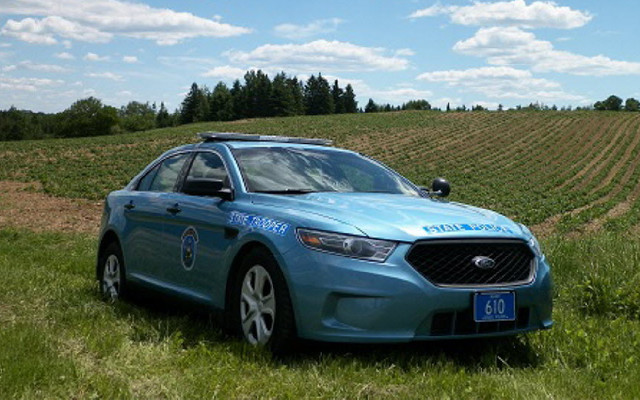 MSP_F
Maine State Police - Troop F - Aroostook County.
Maine State Police Troop F Report, Oct. 5-11, 2020
Editor's Note: An arrest or summons does not constitute a finding of guilt. An individual charged with a crime is presumed innocent unless and until proven guilty at criminal proceedings.
HOULTON, Maine — The Maine State Police Troop F barracks in Houlton responded to a number of calls for service during the period of Oct. 5-11, 2020, including the following.
Monday, Oct. 5
PRESQUE ISLE — Tr. Levesque stopped a vehicle in Presque Isle for operating without headlights. The driver was a juvenile who did not have a license. The passenger, also a minor, was the owner of the car, but she was intoxicated and did not want to drive. Tr. Levesque notified both parents and summonsed the driver for operating without a license and summonsed the passenger for criminal permitting unlawful use. Both juveniles were picked up by their parents. 
Thursday, Oct. 8
HOULTON — Troop F troopers went through a vehicle ambush training course at the Houlton Range put on by Sgt. Tyler Stevenson, which consisted of classroom and live fire training. 
Friday, Oct. 9
ST. FRANCIS — Tr. Desrosier was conducting traffic enforcement in the town of St. Francis and stopped a vehicle for traveling 30 mph over the posted speed limit. Tr. Desrosier issued the operator a summons for criminal speed.
SMYRNA — Tr. Castonguay was conducting stationary radar enforcement on I-95 in Smyrna when he observed a vehicle traveling at a high rate of speed. Tr. Castonguay locked the vehicle's speed at 108 mph in a posted 75-mph zone. Tr. Castonguay issued the operator a summons for traveling 30 mph over the posted limit.
NEW SWEDEN — State Police responded to Route 161 in New Sweden for a reported two-vehicle head-on-collision. Troopers learned that 63-year old Bryan Forbes of Stockholm was traveling north in his 2005 Mercury Sable. At the same time, 32-year-old Stephanie Anderson of Caribou was traveling south in her 2006 Chrysler PT Cruiser when the vehicle suffered an apparent equipment failure, causing it to enter the northbound lane. Anderson's vehicle struck Forbes's vehicle head-on before ultimately leaving the roadway and rolling over on its side. Anderson suffered serious, non-life-threatening injuries and was transported to Cary Medical Center and later released. Forbes suffered serious injuries and was transported to Cary Medical Center. He was later transferred to Northern Light Eastern Maine Medical Center in Bangor, where he remains in serious but stable condition. Anderson was summonsed for operating after suspension and is due to appear in Caribou District Court in December. State Police were assisted at the scene by the Aroostook County Sheriff's Office and Caribou Fire/Ambulance. The investigation remains active and ongoing.
Saturday, Oct. 10
WOODLAND — Tr. Kilcollins received a report of a stolen side by side that had occurred sometime over the past two days. Tr. Kilcollins is working on this case and there are no active leads at this time.
Sunday, Oct. 11
AMITY — Tr. Mahon responded to a report of an intoxicated male who was screaming and throwing a fit. Tr. Mahon arrived and warned the male for disorderly conduct. A short time later Tr. Mahon was called back to the residence as the male reportedly was yelling outside with a blow torch. Tr. Mahon arrested the male for disorderly conduct without incident.