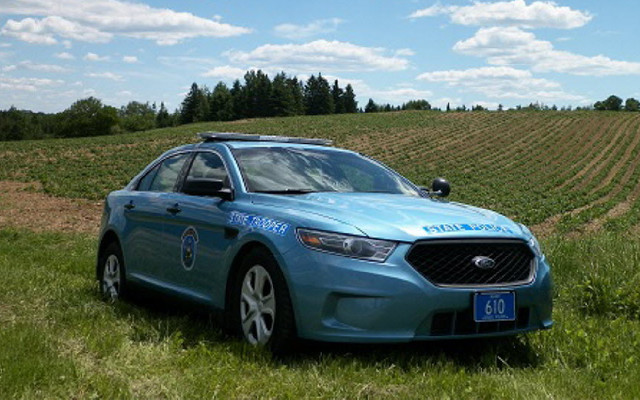 MSP_F
Maine State Police - Troop F - Aroostook County.
Maine State Police Troop F Report, Sept. 28-Oct. 4, 2020
Editor's Note: An arrest or summons does not constitute a finding of guilt. An individual charged with a crime is presumed innocent unless and until proven guilty at criminal proceedings.
HOULTON, Maine — The Maine State Police Troop F barracks in Houlton responded to a number of calls for service during the period of Sept. 28-Oct. 4, 2020, including the following.
Monday, Sept. 28
SMYRNA — Tr. Sylvia was monitoring traffic on I-95 in Smyrna when he clocked a vehicle at 112 mph in a 75 mph zone. The Windsor man was headed north on the interstate when he was pulled over. He was charged with criminal speed and is now awaiting a Houlton court date.
Tuesday, Sept. 29
MAPLETON — Sgt. Clark was assisting Tr. Kilcollins with a theft investigation in Mapleton. He was checking the area for a man that was thought to be part of the theft investigation and observed him driving and quickly pulling into a neighbor's driveway. After an investigation, the man was issued a criminal summons for operating after suspension. The man admitted to knowing he did not have a valid driver's license.
WESTFIELD — A couple walking their dog in Westfield found what they thought may be a burned carcass of some sort. Sgt. Clark responded and conducted an investigation. The couple stated their dog brought something out of the woods they thought may have been a skull. Sgt. Clark examined it and the area where it was found. It was found that someone either discarded old food or set a poorly constructed bear bait. There were blueberries, meatballs, and other food items. Nothing suspicious was discovered.
LITTLETON — Cpl. Quint responded to a two-vehicle crash in Littleton. The vehicles were driving in the opposite directions on the narrow back road and both were too close to the centerline. As they passed, their mirrors hit and broke. During the crash investigation, it was discovered one of the drivers had a suspended Maine driver's license from 2018. The man was issued a criminal summons for the violation and arranged for a licensed driver to come get him and the vehicle. No one was injured in the crash.
Wednesday, Sept. 30
NEW LIMERICK — Tr. Mahon responded to a reported theft of a gas can at a local camp. The homeowner had security footage of the incident. The investigation is ongoing.
Thursday, Oct. 1
NASHVILLE PLANTATION — Tr. Martin is investigating a theft of license plates from a sawmill in Nashville Plantation. The vehicle the plates were removed from had been parked in a storage facility on the property in the fall of 2019. The theft was only recognized when Massachusetts EZ Pass sent the company a fine for unpaid tolls. The plates were entered as stolen and Tr. Martin is working to develop a suspect. 
ISLAND FALLS — Tr. Cotton was patrolling Island Falls on Houlton Road when he was flagged down by a motorist. The motorist advised him that a pickup truck backed into his motor home and drove off. An investigation revealed that a male subject, who has been reported to drive under the influence of alcohol by concerned citizens, was the operator of the truck that backed into the motor home. The operator of the pickup truck came back to the scene and confessed to backing into the motor home as well as drinking. Tr. Cotton put the male through field sobriety and placed the male under arrest for operating under the influence.
MASARDIS — A Maine Guide called the Houlton Regional Communications Center to report that a trailer and UTV had been stolen from a woods road in Masardis within the last 24 hours. The male told Tr. Cotton that he had stashed it there for moose recovery. The male advised that he had a lock on the trailer, and it must have been cut off. Investigation is ongoing.
Saturday, Oct. 3
WESTFIELD — Tr. Kilcollins received a complaint of a vehicle driving slow in Westfield and it appeared the driver was looking into people's yards. Tr. Kilcollins checked the area and located the described vehicle. The man stated someone stole a truck belonging to him and he was looking for it. The man had numerous sets of bail conditions (five), and two stipulated he remain on house arrest in Ludlow. The man was arrested for violating his conditions of release and was transported to the Aroostook County Jail in Houlton.
Sunday, Oct. 4
MARS HILL — Tr. Kilcollins and other troopers have been receiving complaints on a motorcycle driving criminal speeds between Mars Hill and Presque Isle almost daily. Tr. Kilcollins received a complaint from a driver stating the motorcycle passed at an estimated 100 mph in the 55-mph zone. Tr. Kilcollins checked the area and located the motorcycle in Mars Hill. After an investigation, it was discovered the man does not have a motorcycle endorsement. He was issued a criminal summons for operating without a license and a warning for having an unregistered motorcycle. The man denied the speeding allegations. 
MARS HILL — Tr. Rider pulled over a vehicle on Route 1 in Mars Hill for a 2018-2019 inspection violation. After some investigation, it was found that the driver and three passengers were suspended. The rear passengers were on probation for drug offenses and one of the rear passengers had a no-bail probation warrant. After a consent search of the front passenger's purse, a usable amount of admitted heroin was found along with a scale and drug paraphernalia. The driver was issued a criminal summons for operating after suspension, the front passenger was issued a criminal summons for unlawful possession of schedule W drugs, and the rear passenger was transported to the Aroostook County Jail. The vehicle was towed by Brewer's towing service.