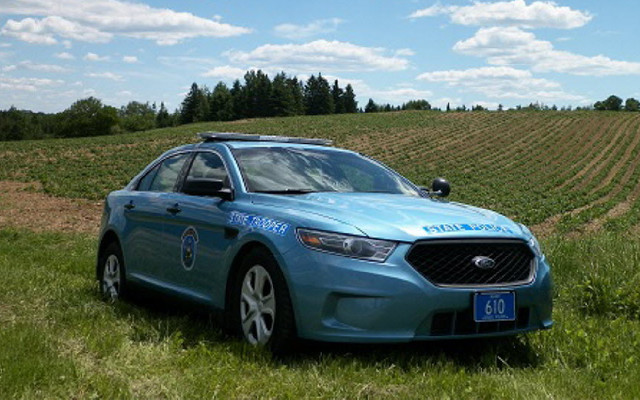 MSP_F
Maine State Police - Troop F - Aroostook County.
Maine State Police Troop F Report, Oct. 12-18, 2020
Editor's Note: An arrest or summons does not constitute a finding of guilt. An individual charged with a crime is presumed innocent unless and until proven guilty at criminal proceedings.
HOULTON, Maine — The Maine State Police Troop F barracks in Houlton responded to a number of calls for service during the period of Oct. 12-18, 2020, including the following.
Monday, Oct. 12
BLAINE — Tr. Kilcollins is actively investigating a theft in Blaine. The victim, a local farmer, reported someone stole a variety of tools from a locked tool truck as well as the power cords that run the conveyor system to unload potatoes from the trucks and put them inside bins in the potato house. Tr. Kilcollins is following leads and the incident was posted to the State Police Facebook page seeking help from the public.
OAKFIELD — Tr. Curtin charged a local man for operating after suspension after watching him drive past him and turn into a convenience store. Tr. Cotton knew the man's right to operate was under suspension, and that he had been charged for the same violation the night before by one of the local police departments. A licensed driver was called to take the vehicle home.
Tuesday, Oct. 13
LITTLETON — Tr. Casavant and Tr. Sylvia responded to the report of a stolen vehicle when OnStar reported a location of a vehicle that had been stolen out of Caribou. Once they located the stolen vehicle, the operator fled at speeds of over 100 mph and led the troopers south and then north on Route 1. The troopers were aware that the vehicle had possibly been stolen by a man and woman that had led other agencies on several pursuits with different stolen vehicles over the last few days. The operator crashed the vehicle after attempting to make a sharp left-hand turn, crashing into a deep ditch. He was taken into custody and his girlfriend was arrested by Tr. Levesque the following morning after leading him on another high-speed pursuit with a separate stolen vehicle.
Wednesday, Oct. 14
PRESQUE ISLE — Tr. Levesque arrested a woman after she led him and several other law enforcement officers on a high-speed chase in Presque Isle. The woman and her boyfriend had led troopers, deputies and local officers on several pursuits with multiple stolen vehicles over the course of several days. The night before, her boyfriend had been involved in a high-speed pursuit with Tr. Casavant and Tr. Sylvia. That chase ended after he crashed and was taken into custody. Tr. Levesque's pursuit came to an end after spike mats were used by Presque Isle PD to deflate the tires of the vehicle the woman had stolen earlier in the morning. Once the vehicle was no longer able to be driven, the woman attempted to flee on foot but stopped voluntarily and was taken into custody by Tr. Levesque. She is now facing multiple charges, to include burglary, theft and eluding. All the vehicles stolen have been recovered and there were no injuries in any of the pursuits.
Thursday, Oct. 15
PRESQUE ISLE — Tr. Sylvia and K-9 Ziva responded to a call for assistance from Presque Isle PD when a wanted man had fled into a wooded area on the outskirts of town. The man had been spotted on several occasions, but each time he was found, he would flee into another wooded area. Tr. Sylvia and K-9 Ziva tracked the wanted man and located him in a wooded area. He was taken into custody and transported to the PD.
Friday, Oct. 16
WALLAGRASS — Tr. Curtin recovered a stolen motor vehicle in Wallagrass after a local man reported finding the vehicle crashed in a remote wooded area. The vehicle had been pursued earlier in the month by a local PD after it was learned that the vehicle had been stolen out of New York. Tr. Curtin is working with authorities in the area the vehicle was stolen from to have it returned to the owner.
WALLAGRASS — Tr. Curtin responded to a local apartment complex after the Houlton Regional Communications Center had taken a report of a possible drug overdose. Tr. Curtin was familiar with all the parties involved. The subject who had reportedly overdosed refused medical treatment and appeared to be fine. Once the medical issue had been resolved, Tr. Curtin learned that the man and his girlfriend both had outstanding warrants for their arrest. He arrested them both and transported them to the local police department, where they were able to post bail.
HODGDON — Tr. Sylvia responded to a Hodgdon business after some donation jars were found to have been stolen. The investigation is ongoing, and leads have been developed in the case.
Saturday, Oct. 17
NEW LIMERICK — Houlton PD requested troopers check a camp in New Limerick for a man they wanted arrested due to a motor vehicle crash in their town. The man is also on probation. Cpl. Quint and Tr. Castonguay checked several camps in the area but did not locate the suspect. He was later apprehended in Houlton by Houlton PD.
MARS HILL — Tr. Kilcollins investigated a hit-and-run crash in the IGA parking lot in Mars Hill. The suspect's vehicle struck a parked car in the front driver's corner and then fled the area. Using the store's surveillance equipment, Tr. Kilcollins was able to see the suspect's vehicle registration and located the driver. The driver stated he did not think it was that much damage and did not need to wait or report the incident. He was issued a criminal summons for leaving the scene of a property damage crash. 
OAKFIELD — Tr. Cotton charged a local man with operating after suspension after seeing him driving past him on the street. The man pulled into a convenience store and fled out of the passenger side of the vehicle. A short time later, Tr. Cotton located him and charged him with the violation. It was the second time in recent days that Tr. Cotton had charged the man for driving without having a valid license.
Sunday, Oct. 18
FRENCHVILLE — Tr. Martin met with a property owner in Frenchville after she reported that some items she had been storing were missing. The items had been in storage for some time, and it appears someone had recently stolen items from the property. The investigation is ongoing.
STOCKHOLM — Tr. Martin summoned a local woman for criminal speed when he observed her traveling 96 mph in a 55 mph speed zone.