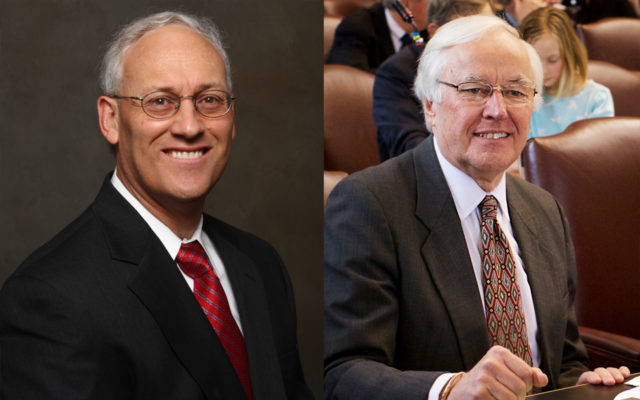 KBJM-SJVT
Kevin Bushey, left, and John Martin. (Courtesy of Kevin Bushey; Troy Bennett | BDN)
House District 151 candidate profiles
FORT KENT, Maine — Who to elect as the 46th President of the United States is not the only decision facing northern Maine voters on Nov. 3. Also at issue is who voters feel is best suited to represent them at the state level. 
The candidates on the ballot for Maine House District 151, which encompasses Allagash, Ashland, Eagle Lake, Fort Kent, Masardis, New Canada, Portage Lake, St. Francis, Wallagrass and Plantations of Garfield, Nashville, Oxbow, St. John and Winterville, plus the unorganized territory of Northwest Aroostook, are incumbent Rep. John Martin, a Democrat, and his challenger, Republican Kevin Bushey. 
Both candidates were asked identical sets of questions in email interviews sent by the newspaper.
The following are abridged replies from both candidates.
What is your background? 
Martin lives in his hometown of Eagle Lake. He has undergraduate degrees in history and government and a master's degree in political science. He previously taught history at Fort Kent Community High School and continues to teach political science at University of Maine at Fort Kent. 
Martin is currently serving his 21st non-consecutive term in the House, where he has served 10 terms as speaker. He has also served four terms in the Maine Senate.
Bushey is an Ashland native with an undergraduate degree in business from University of Maine who served five and a half years of active duty with the U.S Army and over 21 years with the U.S Air Force military reserve, retiring as Colonel. 
"My professional positions and skills include emergency management, nuclear, biological, chemical trainer, strategic planning, medical administration and real estate sales," Bushey said. 
He and his wife Mary have been married since 1980 and have two adult daughters. 
Why are you running for this seat?
"I believe that I have the knowledge and experience to help the citizens of my district," Martin said.
"The long serving bureaucrats holding public office in Augusta are mostly out of touch with northern Maine," Bushey said. "For years we've seen an outmigration of our youth, multiple business closures, especially along the Route 11 corridor, and a poor balance between forest and wildlife management. I aim to work at fixing and improving these issues so that northern Maine is more than a vacation destination and is also a great place to work, raise a family and pursue dreams." 
Bushey also cited the issue of Title 37-B, the Department of Emergency Management statute, "that abrogated the co-equal powers of the Legislature and Judicial Departments to the Governor during emergencies," he said. "It is unconstitutional and must be fixed." 
What do you see as the biggest challenges faced by voters in this district?
"This coming session will be a difficult one caused by lost jobs, income and displacement for many citizens," Martin said. "I plan to be on the appropriation committee where I now serve."
Martin added that it will be important to balance the budget without raising taxes.
"I do not support new taxes," he said. He also feels it is important that Mainers are able to keep a $25,000 homestead reduction on their primary homes.
"The U.S. Constitution is the supreme law of the land, and in Maine, the Maine Constitution is also the supreme law of the land," Bushey said. "We must get back to our roots and the blueprint left to us by our forefathers, the pilgrims. They left us the blueprint in the form of a statue at Plymouth, Massachusetts, that lays out these five elements for a nation's success: faith, morality, law, education and liberty."
"Another major challenge is Aroostook County seems to be left out of the efforts in Augusta to  include us in any meaningful statewide economic development and energy strategic planning," Bushey said. 
Many hunters live in northern Maine and others travel here and in doing so contribute to the local economy. Where do you stand on the issue of gun control?
"My position on guns is very clear," Martin said. "I have been endorsed by the NRA with an A+ endorsement as well as being endorsed by Sportsman's Alliance of Maine. I am presently serving on the Inland Fisheries and Wildlife Committee. I believe in hunting with guns and own a number of them." 
Bushey said he supports the Second Amendment and has witnessed a decline of hunting revenues in the area due to a drop of the deer herds. 
"We must do a better job of balancing forest harvesting and wildlife management. Many small direct and indirect businesses have closed in the last 20 years due to the declining deer population," Bushey said. "We need to recover those tourism dollars derived from hunters and fully support the Second Amendment as part of that effort. Coupled with better wildlife management  and forest practices, we can rebuild this industry."
What is your opinion about a proposed regional high school in the St. John Valley?
"If it's going to happen, it is important that we look where the students will come from in the years to come," Martin said. "I think that all three districts want to keep control of the lower grades."
"As a youngster, I recall Fort Kent High School had a capacity of close to 500 students," Bushey said. "Let's continue to look at options that may be more economical and within the taxpayers of Maine budget."
To what do you attribute the low numbers (to date) of COVID-19 infections in this district? 
Martin said that Maine and Vermont have had the most success of the 50 states in keeping COVID-19 cases low. 
"Since Canada is closed and Maine has been restricting many from other states Aroostook is able to watch what others are doing," he said. "I do believe we need a national policy which I hope we can have after this election."
"Northern Maine is a rural area and the spread of this virus never became 'beyond local control,' as attested by our County emergency management director, Darren Woods, in May of this year," Bushey said. "It appears the COVID was never any worse than the normal incidence of the flu virus. Better sanitation, hand washing, and distance may also be contributing to better results here." 
How familiar are you with QAnon? Do you think its theories have relevance to our area?
"Their ideas are way out from hate for Catholics and other religions," Martin said. "They use the Bible to explain conspiracy theories. You need to go visit their site for their series of 'prayers.'"
"QAnon is one source that mainstream media attempts to discredit, yet QAnon provides data that is confirmed through multiple sources," Bushey said. "There's a strong likelihood our nation's military is part of the QAnon effort."
"I've witnessed first-hand the presence of (Black Lives Matter) sympathizers in Fort Kent," Bushey added. "The BLM movement founders proudly display their Marxist training in their propaganda videos and on the web.  Those who wish to subvert our current government structure are in every area. District #151 is  not immune from their presence."
Substance use disorders, including alcoholism and addiction to methamphetamine, are more common in The County than in other parts of Maine. What would you do to combat that?
"We need to do more for substance abuse issues," Martin said. "We enacted more money for housing and treatment opportunities but we need to do more. We also nee to take a look at the needs in Aroostook."
"Rural living, inadequate infrastructure, lower paying jobs, and other issues contribute to addictions in all age groups," Bushey said. "Faith is first and  the element that can lift people's spirits and have hope for their future. We had a bustling county just 70 years ago. Working together, we can return to faith, family and keeping our Franco-American culture intact."
"Efforts by various health organizations and others to assist substance  abusers must be part of future solutions to aid those to break the bonds of addiction," Bushey added.