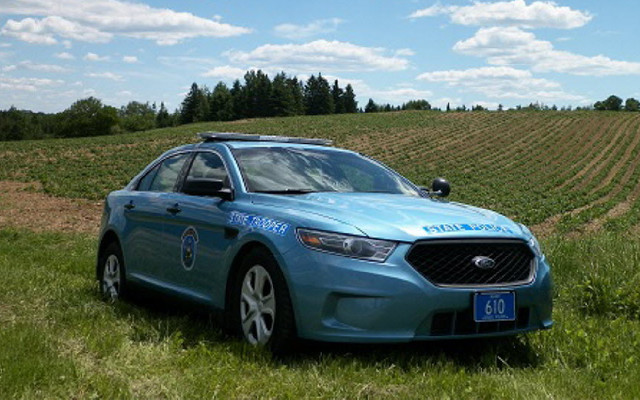 MSP_F
Maine State Police - Troop F - Aroostook County.
Troop F Report, Aug. 17-23, 2020
Editor's Note: An arrest or summons does not constitute a finding of guilt. An individual charged with a crime is presumed innocent unless and until proven guilty at criminal proceedings.
HOULTON, Maine — The Maine State Police Troop F barracks in Houlton responded to a number of calls for service during the period of Aug.17-23, including the following.
Monday, Aug. 17
FORT FAIRFIELD — Cpl. Michaud charged a local man with operating after habitual offender status after he pulled him over on Route 1A in Fort Fairfield. The traffic stop was for a motor vehicle defect, and it appeared that the man's license had been revoked for years. His passenger also had a suspended license, so a family member was called to come and get the men and the vehicle. The man is now facing a November court date in Presque Isle.
Tuesday, Aug. 18
BLAINE — Trooper Mahon arrested a local man for an outstanding warrant that stemmed from drug charges after Tr. Mahon had pulled him over for a motor vehicle defect. He was arrested without incident.
Wednesday, Aug. 19
MARS HILL — Sgt. Clark was traveling south on the West Ridge Road in Mars Hill when he met a pickup traveling north, operating erratically. The vehicle had a snow plow on it that was dragging on the hot top and no registration plates. Sgt. Clark attempted to stop the vehicle to address the violations. The operator, later determined to be a male juvenile, refused to stop and increased his speed to approximately 80 mph. The vehicle continued to operate erratically and drove off the right side of the roadway, becoming airborne into a field, and came to rest in the wood line. Sgt. Clark placed two juvenile males into custody. No one was injured in the crash.
Thursday, Aug. 20
ST. AGATHA — Tr. Curtin met with a local business owner after the man reported a theft of diesel fuel from his store. The owner of the business decided that he did not want to pursue theft charges against the driver; instead, he just wanted him to pay for the fuel he took. The operator of the vehicle who took the fuel was not immediately recognized by the owner, but they were going to attempt to contact him on their own once his identify was learned.
Saturday, Aug. 22
ST. AGATHA — Tr. Desrosier investigated a crash in St. Agatha where an intoxicated male drove his pickup into the lake. Tr. Desrosier investigated and located the driver, who had fled the scene but then returned a short time later. The man denied driving the vehicle, but several witnesses identified him as the driver. After field sobriety testing, the man was arrested for operating under the influence and transported to Fort Kent Police Department.
ST. AGATHA — Tr. Desrosier was conducting traffic enforcement in St. Agatha. He observed a vehicle speeding and with several other traffic infractions. Tr. Desrosier conducted a traffic stop and suspected the driver was intoxicated. After conducting Field Sobriety Testing, the man was arrested for OUI and taken to Fort Kent Police Department for an Intoxilyzer test and where he posted bail.
Sunday, Aug. 23
CARIBOU — Tr. Rider, Tr. Sylvia and K9 Ziva, along with Sgt. Haines, responded to Caribou after they had a male flee on foot from a stolen car. The male recently stole the car as well as other items and was seen with a rifle in video surveillance a week prior. Today the male did not have the rifle when he fled. The track led to a residence, which was searched with negative contact. The male likely left in a vehicle from that residence. 
NEW LIMERICK — Tr. Mahon was called to a New Limerick residence after the homeowner reported another male there would not let him leave. The Aroostook County Sheriff's Office assisted Tr. Mahon, and they learned the suspect had an active warrant. He was arrested without incident.