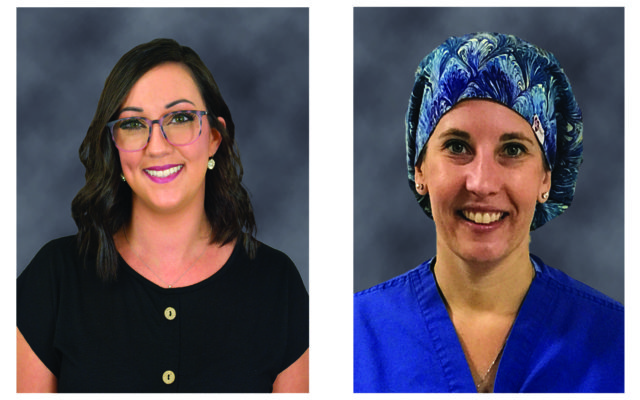 Nurses
Kacey Soucy and Christie Ewing. (Courtesy of Cary Medical Center)
Hospital announces nursing promotions
CARIBOU,  Maine — Cary Medical Center has announced several promotions in its nursing division. The moves are part of a restructuring in nursing after the recent appointment of Jen Plant as chief nursing officer. 
According to Plant, the new nursing leadership will help to continue a tradition of nursing care that has been a trademark at the hospital.
"We are very pleased with these appointments," said Plant, who was formally named CNO on June 1. "Each of these nurses have demonstrated the kind of leadership, experience, and passion for nursing that is so critical to maintain our unique family culture. They are taking on these roles at a special time as we are now orienting some 15 new nursing graduates who have joined our team."   
Kacey Soucy, RN-BSN, will now direct all inpatient nursing. She will be responsible for the Acute Care Unit, Intensive Care Unit and Maternal and Child Health. 
Soucy, who earned her bachelor of science in nursing at the University of Maine at Fort Kent, joined Cary in 2014. She served as a charge nurse and worked at the bedside. She cross trained in several areas including intensive care, emergency, post anesthesia care unit, pain clinic and was an IV therapy instructor. 
Soucy, who is a native of Fort Kent and still lives in that community, praised the Cary nursing staff for their performance during the ongoing COVID pandemic.
 "I have been just amazed at the resilience our staff has demonstrated during the ongoing COVID-19 crisis," she said. "The experience has generated new cross training opportunities and our nurses have really taken advantage of being able to work in various areas." 
Soucy said, "Long term, my goal is to bridge the gaps between nursing units, ICU/ACU/OB and to broaden nurse's experience offering new challenges. That process has already begun and we are anxious to welcome some 15 new graduate nurses who come to us from our local college and universities." 
Soucy commented on the quality of nursing at Cary and her priorities.
"We certainly strive and do what we can to ensure our patients have an ideal experience while in the hospital. We are also looking to really reinvigorate our orientation process so our nurses feel supported and engaged right from the beginning. I am hoping to create a strong nursing culture amongst the staff, create more of a focus on career advancement and achieving professional goals, as well as creating a way to recognize and reward high performers." 
Christie Ewing, RN-BSN, will now manage surgical services at Cary. She began her career at Cary in 2004 as acute care charge nurse. From 2006 – 2011 Ewing served as a nurse educator responsible for multiple educational programs for new nurse graduates as well as staff nurses. 
In 2011 she became primary charge nurse for the hospital's Acute Care Unit. In this role she was responsible for all unit operations, budgeting, and hiring of new staff. Ewing said that while shifting to the operating room was a change she has found the nursing staff to have the same commitment to patient care.
"Taking on a management role in the operating room was a major change for me," said Ewing, who began transitioning to the new position earlier this year. "It is clearly a different environment from bed-side nursing. I have found the staff in surgical services to be very focused on providing top notch service and set very high standards for the quality of care they deliver."
Ewing pointed out that the COVID-19 pandemic has had a major impact on surgical procedures and that the hospital is putting in place all of the new recommended guidelines and procedures. 
"We have a number of challenges coping with COVID-19 and as we bring on more surgeries we are living by all the guidelines to make sure our patients can get the care they need in a safe, efficient and caring manner."  
Ewing said that she has new goals for the department. 
"I am looking to grow the volume of cases, improve efficiency and develop a more robust staff orientation process. We are working with new tools to improve customer service including more convenient updating for families who have loved ones in surgery."
Submitted by the Community Relations and Development Office of Cary Medical