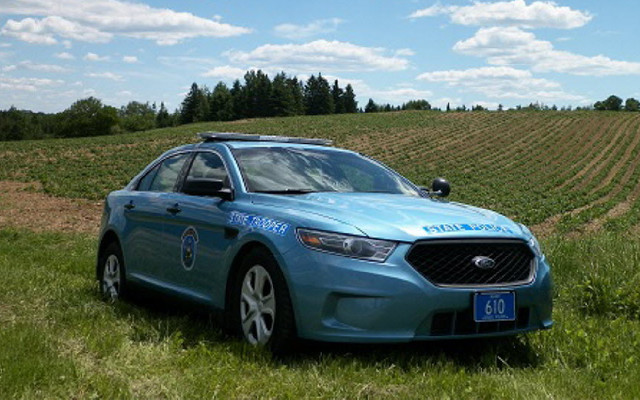 MSP_F
Maine State Police - Troop F - Aroostook County.
Maine State Police Troop F Report, July 20-26, 2020
Editor's Note: An arrest or summons does not constitute a finding of guilt. An individual charged with a crime is presumed innocent unless and until proven guilty at criminal proceedings.
HOULTON, Maine — The Maine State Police Troop F barracks in Houlton responded to a number of calls for service during the period of July 20-26, including the following.
Monday, July 20
ST. FRANCIS — Trooper Desrosier was parked in St. Francis when he was approached by a concerned citizen reporting that she knew where a man was staying that had an active arrest warrant for violation of bail due to an arson charge. Tr. Desrosier located that man and took him into custody and transported him to the Aroostook County Jail.
Tuesday, July 21
ISLAND FALLS — Tr. Cotton was patrolling the Oakfield area when he observed a vehicle without functioning plate lights. Tr. Cotton initiated a traffic stop and observed an open container of alcohol tucked behind the center console of the vehicle. Ultimately the operator was told to dump the container of alcohol out and was issued a summons for the open container.
MONTICELLO — Tr. Mahon was on Rt. 1 in Monticello when he watched a vehicle make a U-turn in front of him and accelerate at a high rate of speed. He was able to get the vehicle on radar at 67 mph in a 30-mph zone. The vehicle then passed other cars in a poor spot. Tr. Mahon was able to catch up to the vehicle and stop it. He cited the driver for his speed and the improper pass.
Wednesday, July 22
HODGDON — Tr. Mahon was in Hodgdon investigating a complaint of a local man driving in the area without a license. Tr. Mahon confirmed that the man's license was suspended as a habitual offender and that he was out on three sets of bail conditions. After being in the area for a short time, Tr. Mahon spotted the man as he passed a vehicle at a high rate of speed while operating a motorcycle. He was able to get the motorcycle stopped and confirmed that it was the man he had been looking for. The man was arrested and charged with felony operating after habitual offender revocation, speeding, violation of conditions of release and attaching false plates to the motorcycle. He was transported to jail, and the motorcycle was towed.
Thursday, July 23
WALLAGRASS — Tr. Desrosier was conducting traffic enforcement in the town of Wallagrass when he observed a vehicle traveling at a high rate of speed on the Aroostook Road. Tr. Desrosier clocked the vehicle's speed at 82 mph in a posted 45-mph zone. The vehicle attempted to elude Tr. Desrosier by taking a side road and parking in a private drive. Tr. Desrosier issued a summons for criminal speed. This will be the second time Tr. Desrosier has summonsed the driver for criminal speed in less than a year.
EAGLE LAKE — Tr. Curtin located a local man and arrested him on a warrant for obstructing government administration and violation of conditions of arrest. He was arrested without incident.
Friday, July 24
PRESQUE ISLE — Cpl. Michaud was patrolling a secondary road in Presque Isle that had seen an increase in traffic due to Route 1 construction. He had focused his efforts near a local horse stable, where horse riders and owners are often seen near the roadway. He passed a woman walking her horse and met a vehicle that was traveling just under 80 mph in a 45-mph zone. The woman reported that she had slowed down when she went past the woman and her horse, but was not sure how fast she had been going. She was cited for her speed.
Saturday, July 25
CRYSTAL — Tr. Cotton was patrolling Rt. 159 in Crystal when he observed a vehicle with a loud exhaust. Tr. Cotton initiated a traffic stop and learned that the operator was suspended. Tr. Cotton summonsed the male and a licensed driver in the car could drive the vehicle home. 
ISLAND FALLS — Tr. Cotton initiated a traffic stop on I-95 for a motor vehicle defect. An investigation revealed that the operator had a conditional license from a previous operating under the influence and was on bail not to use or possess alcohol. Ultimately Tr. Cotton took the male to jail for an intoxication test, where he had a breath alcohol concentration of 0.01. Tr. Cotton summonsed the male for violating condition of release and operating without a license in violation of license restrictions or conditions.
MASARDIS — Tr. Rider assisted Ashland Police Department in locating two individuals with temporary warrants out for their arrest for assault and aggravated criminal mischief. Tr. Rider located and arrested one suspect at a residence in Masardis. The other suspect fled in a blue single-cab Chevy pickup. Tr.Rider initiated his emergency blue lights and siren and the pickup did not stop. Tr. Rider lost sight of the truck around the Masardis Mill. Tr. Rider and the Ashland PD were unable to locate the vehicle.