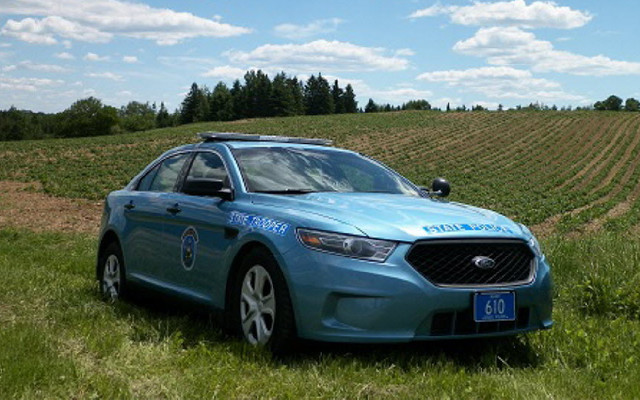 MSP_F
Maine State Police - Troop F - Aroostook County.
Maine State Police Troop F Report, July 6-12, 2020
Editor's Note: An arrest or summons does not constitute a finding of guilt. An individual charged with a crime is presumed innocent unless and until proven guilty at criminal proceedings.
HOULTON, Maine — The Maine State Police Troop F barracks in Houlton responded to a number of calls for service during the period of July 6-12, including the following.
Monday, July 6
FRENCHVILLE — Tr. Desrosier stopped a pickup for speeding in Madawaska. During the stop, he discovered the registration for the truck had been suspended per court order. The driver was issued a traffic summons for speeding and a criminal summons for operating with a suspended registration.
FORT KENT — Tr. Desrosier stopped a vehicle in Fort Kent after he observed the passenger door open and close twice while the vehicle was in motion. It was discovered the male passenger was intoxicated and needed to urinate. The man was also found to have bail conditions prohibiting from using/consuming liquor. After an investigation, the man was arrested for violating his conditions of release and was taken to the Fort Kent Police Department.
ST. AGATHA — Tr. Curtin was working on warrant arrests when he obtained information on a man who had an outstanding warrant for his arrest regarding a theft case. The man was located at an apartment complex in St. Agatha and arrested without incident. He was transported to the Aroostook County Jail.
MONTICELLO — Tr. Mahon was called to the former elementary school in Monticello when damage was reported to the building. A rear window was broken and damage done on the inside of the building. The investigation is ongoing.
OAKFIELD — Tr. Saucier was called to an Oakfield home when a resident reported he had not seen or heard from his girlfriend in a couple of days. A routine check revealed that the caller had a warrant out for his arrest for failing to comply with the sex offender registry. He was arrested without incident and transported to jail. The woman contacted Tr. Saucier after the arrest to let him know that she was fine.
Tuesday, July 7
OAKFIELD — Tr. Rider and Sgt. Fuller responded to a residence in Oakfield for a report of an assault. After some investigation, it was found that the subject threw a chainsaw at the victim and punched him in the face. The suspect fled to his residence and would not come to the door when Tr. Rider and Sgt. Fuller tried to make contact. Tr. Rider and Sgt. Fuller tried making contact at the suspect's other residence with negative contact. Tr. Rider submitted the report to the district attorney's office and requested a warrant put out for the individual's arrest. 
Wednesday, July 8
HODGDON — Cpl. Quint was conducting traffic enforcement in Hodgdon and observed a pickup speeding. The vehicle was stopped, and Cpl. Quint recognized the driver from other interactions. The man moved to Maine more than two years prior and has refused to register his vehicle or obtain a driver's license in this state. The man was issued a summons for evasion of registration fees and excise tax, failing to obtain a driver's license within 30 days of residency, and for not having insurance. The man was given a warning for speeding.
ISLAND FALLS — Tr. Castonguay was driving south on I-95 to an unrelated complaint and observed a vehicle swerve in the roadway. Tr. Castonguay stopped the vehicle and suspected the driver was intoxicated. After an investigation and field sobriety testing, the man was arrested for operating under the influence and transported to the Aroostook County Jail in Houlton, where he was able to post bail.
Thursday, July 9
OAKFIELD — Tr. Cotton was patrolling the Oakfield area when he observed a male driving an SUV with what looked to be an electronic device in his hand. Tr. Cotton stopped the vehicle and determined that the object was a large phone charger and the male admitted he was distracted. Further investigation revealed the male's license out of Florida was suspended and his Maine license was surrendered. Tr. Cotton summonsed the male accordingly.
SILVER RIDGE — Warden Seth Powers was on patrol on the Pond Road in Silver Ridge when he observed an SUV with numerous people in it drive by him at a high rate of speed. Wdn. Powers turned around and found the SUV on its side. Wdn. Powers confirmed there was no serious injury. Tr. Cotton arrived on scene and determined that the vehicle lost control after fishtailing. Most of the occupants were not wearing their seatbelts and all the windows were down. Tr. Cotton summonsed the operator of the vehicle, who had only had her license for five months, with carrying passengers beyond intermittent restrictions. All the parents of the juveniles arrived on scene to pick them up and Tr. Cotton was able to use this situation as a teaching moment as to the importance of safe driving and the wearing of the seat belt.
Friday, July 10
CHESUNCOOK LAKE — Sgt. Haines was contacted by Lt. Joe Mints of Maine Forest Service. Lt. Mints had been walking with his family in the North Maine Woods when they located a backpack that washed up on shore. The back pack contained various items, one of which included a handgun. Sgt. Haines was able to identity of the owner of the bag, who was a New Hampshire resident. With the help of a local police department, the man was located and reported that his canoe had flipped over while on a fishing trip. Arrangements were made for the man to collect his belongings later.
Saturday, July 11
MERRILL — Tr. Castonguay stopped a vehicle in Merrill for speeding. During the traffic stop, it was discovered the vehicle, registered in New Jersey, had a suspended registration. Tr. Castonguay issued a warning for speeding to the driver and a criminal summons for operating with the suspended registration.
ISLAND FALLS — Tr. Castonguay was patrolling along US Highway 2, Island Falls, and noted three vehicles pulled into a scenic turnout and three minors standing near one vehicle. He stopped to make sure there was no emergency or other issue and discovered one male had a cooler with beer and other liquor inside. After an investigation, the 19-year-old in possession of the alcohol was issued a civil summons for the violation.
WOODLAND — Cpl. Michaud, Tr. Flynn, Ranger Carney and Deputy Belanger responded to a Woodland residence for a reported burglary in progress. Ranger Carney arrived in the area first and located the suspect walking a short distance from the scene. He was able to take the man into custody without incident. The residence had been targeted recently and the homeowners had installed cameras in the home, which alerted family members to the burglary. Cpl. Michaud charged the local man with burglary, theft, criminal attempt, and two counts of violating his conditions of release. The man had been out on bail for a previous burglary. He was transported to the Aroostook County Jail.