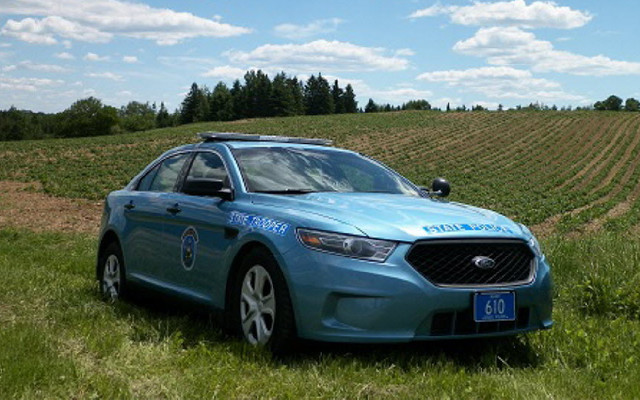 MSP_F
Maine State Police - Troop F - Aroostook County.
Maine State Police Troop F Report, May 11-17, 2020
Editor's Note: An arrest or summons does not constitute a finding of guilt. An individual charged with a crime is presumed innocent unless and until proven guilty at criminal proceedings.
HOULTON, Maine — The Maine State Police Troop F barracks in Houlton responded to a number of calls for service during the period of May 11-17, including the following.
Tuesday, May 12
FRENCHVILLE — Trooper Desrosier assisted the Aroostook County Sheriff's Department with a complaint in Frenchville. Someone reported a man shot from inside a vehicle, out the window, while parked in the church parking lot. Tr. Desrosier located the man and his friend. The man stated a target was set up on a relative's farm and they were target practicing. The man denied shooting from inside the vehicle. The deputy arrived and took over the investigation. 
Wednesday, May 13
LITTLETON — Cpl. Quint was conducting traffic enforcement on U.S. Highway 1, Littleton, and was stopped on the side of the road completing paperwork. A vehicle passed him with defective/leaking exhaust, and he noticed the registration plate was expired since 2019. A traffic stop was conducted; it was found the driver had a suspended driver's license. Cpl. Quint issued him a criminal summons and warnings for the expired registration and expired inspection. This same driver was stopped by Tr. Castonguay in Island Falls on May 7, and issued a summons for operating after suspension.
EAGLE LAKE — Tr. Desrosier was conducting traffic enforcement in Eagle Lake and stopped a vehicle for an infraction. During the stop, it was discovered the driver had a suspended driver's license. Tr. Desrosier issued the man a criminal summons for the violation and helped him arrange for a licensed driver to come get him and the vehicle.
Thursday, May 14
CASTLE HILL — Tr. Levesque responded to Castle Hill for a single vehicle rollover. The operator was traveling on the Dudley Road when he suffered a mechanical failure of the vehicle he was operating. The vehicle lost control and went into the ditch and rolled over several times. The operator suffered injuries and was removed from the vehicle by a passerby. 
Friday, May 15
OAKFIELD — Tr. Cotton conducted a traffic stop on the Thompson Settlement Road in Oakfield for vehicle defects. The operator was found to be suspended. Tr. Cotton issued the man a criminal summons and let him park his truck at a friend's residence down the road.
Sunday, May 17
PATTEN — Tr. Cotton investigated a crash on the Shin Pond Road in Patten. The driver of the vehicle lost control of his car the previous night and struck a tree head on but called to report the crash early on 05/17. After an investigation Tr. Cotton issued the operator a summons for failure to report a crash by quickest means.
MAPLETON — Tr Rider received a complaint of a stolen Yukon from a residence in Mapleton, investigation is ongoing.
FORKSTOWN — Tr. Mahon was on routine patrol on Route 2A in Forkstown when he met a vehicle that was traveling at 90 mph in a 55-mph speed zone. Tr. Mahon was able to get the vehicle pulled over, and the operator was summoned to Houlton District Court for criminal speed.