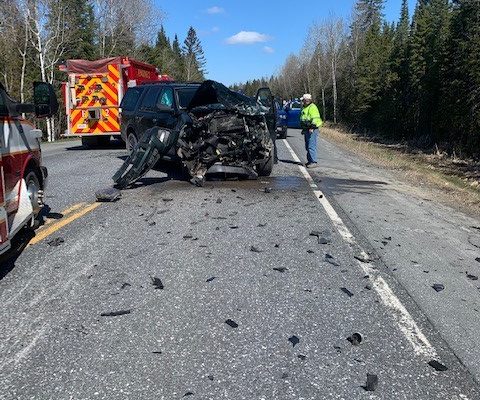 34104201_H26458529
A Crash on Route 161 in Madawaska Lake on Monday led to minor injures and caused serious damage to two vehicles, according to the Maine State Police. (Courtesy of Maine State Police)
Madawaska Lake crash causes major vehicle damage
MADAWASKA LAKE, Maine — A crash at the Lake Shore Drive and Route 161 intersection in Madawaska Lake on Monday caused severe damage to two vehicles as three individuals were taken to Cary Medical Center with minor injuries. 
Cpl. Chuck Michaud responded to the crash at 9:20 a.m. after 73-year-old Lloyd Woods of Stockholm attempted to take a left turn onto Route 161. 33-year-old Spenser Ouellette of Augusta was traveling south on the same road when Woods reportedly turned into his lane, according to state police.
Ouellette was unable to completely avoid Woods which caused the crash, police said. Woods, Ouellette and a young boy in Ouellette's vehicle were taken to the hospital by Caribou Fire and Ambulance and later released. 
State police were also assisted on the scene by North Lakes Fire and the Maine DOT.
Both Woods and Ouellette were wearing their seat belts and police said speed was not a factor in the incident.