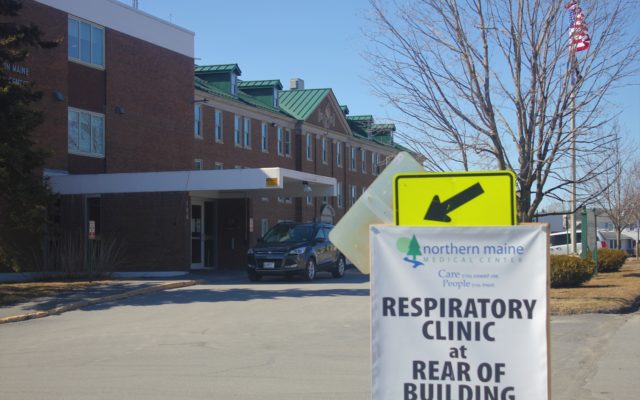 34042561_H26389477
A sign at Northern Maine Medical Center in Fort Kent directs people to its COVID-19 testing area. (Jessica Potila | SJVT)
National Guard to salute health care workers with flyover
AUGUSTA, Maine — The Maine National Guard will honor Maine's frontline health care workers and essential personnel with a flyover on Tuesday over several Maine communities, including Houlton, Presque Isle, Limestone and the St. John Valley.
The flyover will be conducted by a KC-135 aircraft from the 101st Air Refueling Wing in Bangor. This event is part of Operation American Resolve, a nationwide salute to those supporting COVID-19 response efforts.
Starting in southern Maine, the flyover will reach Aroostook County just before noon. Approximate scheduled passover times include the following: Houlton Regional Hospital, 11:51 a.m.; Northern Light AR Gould Hospital, Presque Isle, noon; Loring/Limestone, 12:05 p.m.; St. John River valley, 12:09 p.m., and Northern Maine Medical Center, Fort Kent, 12:21 p.m.
"The entire Maine National Guard is honored to extend our heartfelt gratitude to all the healthcare workers and first responders who are working on the front lines to combat COVID-19. We are also deeply grateful for those essential personnel diligently working to keep our shelves stocked and families supplied," Maj. Gen. Douglas Farnham, Maine's adjutant general, said. 
"While Maine people are known for their resilience in the face of any obstacle, the courage and compassion of our frontline workers who are serving their fellow citizens every day during these difficult times is second to none," Gov. Janet Mills said. 
"On behalf of the people of Maine, I want to express my deep gratitude for the service of our frontline workers, and I urge everyone to join with me in pausing to reflect on their many contributions to our state as we see our aircraft flying overhead."
Residents along the flight path should maintain social distancing guidelines during this event, refraining from congregating in large groups to view the flyover. A few seconds of jet noise can be expected as the aircraft passes overhead.
This community outreach event provides training hours for aircrews and will be conducted at no additional cost to taxpayers.