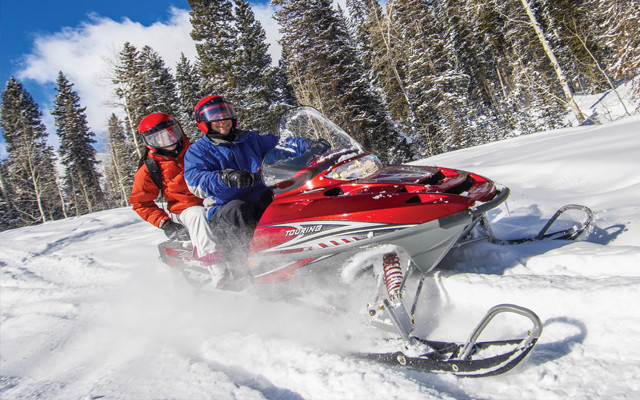 Snowmobile
(Courtesy of Metro Creative)
Special week promotes snowmobiling with friends
AUGUSTA, Maine — The Maine Bureau of Parks and Lands reported Feb. 8-17 as Take a Friend Snowmobiling Week. 
According to the bureau, research has shown that people living in snowy regions see snowmobiling as a great way to enjoy the beauty of winter, have fun with family and friends in the outdoors, go to unique places and see amazing sights and be physically active during winter.
And snowmobile riders tend to be active year-round. They are outdoor enthusiasts who also enjoy: camping/RVing, boating, hunting, fishing, ATV riding, motorcycling, and golfing as well as many other outdoor pursuits.  
If you are a snowmobile rider why not introduce one of your outdoorsy non-rider friends to the sport? If you are  a snowmobile club member consider helping your club sponsor an area ride in your community to introduce folks to the joys of snowmobiling.
Tips for making a first-time ride fun and safe:
Stay safe and provide a safety orientation to your passenger; be sure they have a helmet and suitable gear. Let someone know where you are going and when you plan to return. Be very familiar with your route and current trail and weather conditions before you head out.

Trail Maps.

Plan a short and easy looping or up-and-back ride. Consider a 1/2 day, daytime ride that includes a leisurely lunch break, example: 10 a.m. on trail, hot lunch at noon, end ride where started by 3:00 p.m.
If you are a non-rider who would like to get involved, call a local snowmobile club and ask if they are involved in the international Take A Friend Snowmobiling Week, and if they will connect you to an experienced rider who can take you on an introductory ride.
Get resources and learn more at snowmobile.org.