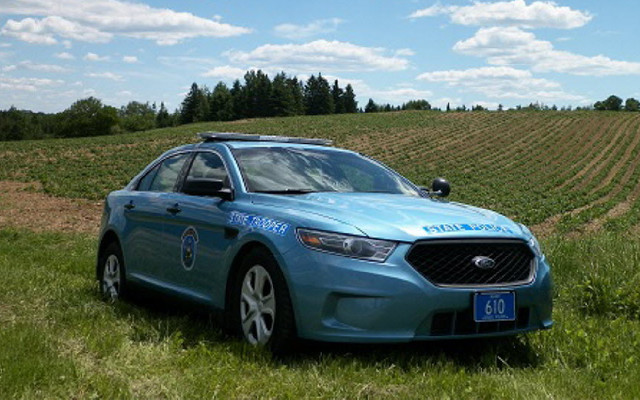 MSP_F
Maine State Police - Troop F - Aroostook County.
Maine State Police Troop F Report, Nov. 25-Dec. 1, 2019
Editor's Note: An arrest or summons does not constitute a finding of guilt. An individual charged with a crime is presumed innocent unless and until proven guilty at criminal proceedings.
HOULTON, Maine — The Maine State Police Troop F barracks in Houlton responded to a number of calls for service during the period of Nov. 25-Dec. 1, 2019, including the following.
Tuesday, Nov. 26
FRANCIS: Tr. Curtin investigated what was originally reported to be a theft complaint. Once he had spoken to all parties involved, it was determined that the issue was civil in nature and not a crime. A woman had posted an item of hers for free on a social media platform. The item was taken by an individual, but after it was taken and the owner realized who had taken it, they were not happy with the circumstances. It was explained to the individuals involved that this issue was civil.
Wednesday, Nov. 27
PRESQUE ISLE: Tr. Kilcollins was driving through Presque Isle when he stopped a vehicle for a minor traffic infraction. During the stop, it was discovered the female driver had a suspended Maine driver's license. Tr. Kilcollins issued the woman a criminal summons for operating after suspension and helped her arrange to have a licensed driver come get her and the vehicle.
PRESQUE ISLE: Cpl. Michaud conducted a speaking engagement at WAGM-TV on travel and safety tips for the holiday season.
LITTLETON: Tr. Casavant responded to a Littleton residence when a homeowner reported his home had been burglarized. The man reported that his house had been vacant for the last couple of weeks, and upon his return to the property, he realized that firearms were missing. The investigation is ongoing.
T7R5: Tr. Saucier pulled over two vehicles for speeding on Route 11 in T7R5. Once he had obtained documents from both operators, he learned that one of the operators had a suspended license out of Vermont. The man had held a previous license in Maine with a long list of convictions that had been previously suspended as well. He was charged with the traffic violations and a licensed driver was allowed to drive the vehicle from the scene.
Thursday, Nov. 28
JOHN PLT.: Tr. Martin was conducting traffic enforcement in St. John and stopped a vehicle for a minor violation. The driver stated he did not have any identification on him and could not find the vehicle's registration. An investigation by Tr. Martin determined the driver's identity and it was found he had a suspended driver's license. It was also determined the plates were falsely attached to the vehicle. Tr. Martin issued the man a criminal summons for OAS and another for illegal attachment of registration plates. The vehicle was towed from the roadway.
Friday, Nov. 29
LITTLETON: Sgt. Clark was conducting traffic enforcement in Littleton when he observed a vehicle speeding. Sgt. Clark stopped the car and the driver stated he did not have any identification but provided a name and date of birth. Sgt. Clark noted the man was very nervous. An investigation showed the man was lying about his identity due to having a revoked license from Maryland and warrants for his arrest (non-extraditable). Sgt. Clark knew the man was not being truthful about who he was and called for Tr. Kilcollins to respond with his fingerprint scanner. The scan showed the man's real identity, which he admitted once he knew the scanner was coming. The man was issued criminal summonses for providing a false name and for operating without a license.
PERHAM: Cpl. Hafford and Tr. Levesque responded to Perham for a report of vehicles blocking the road. One of the vehicles was located and stopped, and the operator was charged with OAS. His male passenger was being sought by Caribou Police Department, who responded and arrested that male on felony charges.
Sunday, Dec. 1
AGATHA: Tr. Curtin pulled over a local woman for a traffic infraction in St. Agatha. A license check revealed that her license was suspended. She was arrested and transported to a local police department, where she was later released with a Fort Kent District Court date early next year.
PATTEN: Tr. Saucier arrested a Patten woman after locating her and learning that she had several warrants out for her arrest. The warrants were for various theft and drug charges. She was arrested without incident and transported to the Aroostook County Jail.