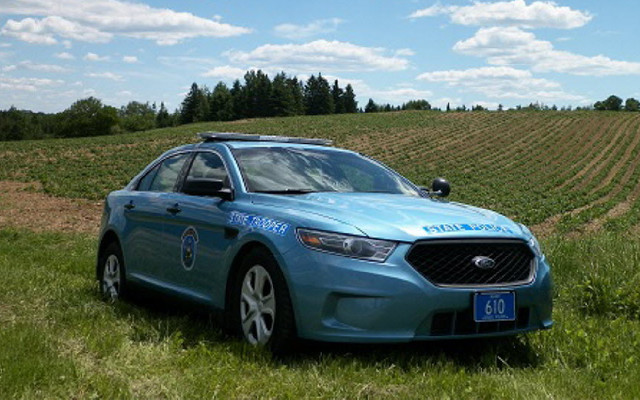 MSP_F
Maine State Police - Troop F - Aroostook County.
Maine State Police Troop F Report, Nov. 18-24, 2019
Editor's Note: An arrest or summons does not constitute a finding of guilt. An individual charged with a crime is presumed innocent unless and until proven guilty at criminal proceedings.
HOULTON, Maine — The Maine State Police Troop F barracks in Houlton responded to a number of calls for service during the period of Nov. 18-24, 2019, including the following.
Monday, Nov. 18
MORO PLT.: Houlton Regional Communications Center received three 911 hang-up calls from an address in Moro Plt. Trooper Cotton responded to the address and made contact with a female that lived there. The female advised Tr. Cotton that she had some phone issues and that's why she kept hanging up. The female wanted to report that someone had trespassed on her property a few nights prior and walked right beside her house. The female stated she was very scared because she lives by herself in a rural location. After a short investigation, Tr. Cotton determined that a moose had walked beside her house and through her yard.
MARS HILL: Tr. Casavant responded to a local business when an employee reported a customer had attempted to pay for services with a fake $100 bill. The person had left prior to Tr. Casavant's arrival. The investigation is ongoing.
Thursday, Nov. 21
HODGDON: Tr. Kilcollins was dispatched to the trailer park in Hodgdon for a reported fight between eight or nine people. Sgt. Clark and Cpl. Quint also responded. An investigation determined two of the partygoers were underage and the male was being disorderly. He was removed from the residence and was walking home. Cpl. Quint located him a few hundred feet from the trailer park and after Tr. Kilcollins' investigation, he was arrested for disorderly conduct. The man was heavily intoxicated and taken to the jail. The homeowner was issued a criminal summons for providing a place for minors to consume liquor.
FRENCHVILLE: Tr. Desrosier was conducting traffic enforcement in Frenchville. He observed a vehicle with poor operation and conducted a traffic stop. Further investigation led him to arresting the female driver for operating under the influence. She was transported to Madawaska PD. The woman was able to post bail and was released.
FORT KENT: Tr. Curtin was conducting routine warrant checks when he discovered a local Fort Kent man had a warrant out for his arrest for unpaid child support. The man was located at his residence and arrested without incident.
CRYSTAL: Tr. Saucier pulled over a local man who he knew had a suspended driver's license. The roadside investigation also uncovered that the man had attached license plates that did not belong to the vehicle they were on. The vehicle was towed, and the man was charged with operating after suspension and improper plates. The vehicle was towed, and the man now has a court date in Houlton District Court.
Friday, Nov. 22
EASTON: Tr. Martin received information of a suspected suspended driver in Mars Hill. Tr. Martin located the vehicle and followed it into a private driveway. When he approached the vehicle, the driver was not the registered owner (who is suspended) but was a female who was also suspended. She stated she was driving because the owner did not have a valid license. Tr. Martin issued the woman a traffic summons for the OAS infraction and helped make arrangements for a licensed driver to remove the vehicle from the home they were visiting.
Saturday, Nov. 23
MARS HILL: Tr. Levesque conducted a bail check on a male from Mars Hill. The male had a 2100-hours curfew and was not home at 2130 hours when Tr. Levesque arrived at his residence. The male's father called him to return home and he did. Tr. Levesque had the male submit to a urine drug test and he tested positive for meth and heroin. The male was arrested and transported to the Aroostook County Jail for violating his conditions of release.
BLAINE: Tr. Levesque received a complaint of a suspicious male who was pulling into driveways multiple times on the Kinney Road in Blaine. While en route to the call, Tr. Levesque received three separate calls about the male. One of the homeowners found the male standing on the porch looking into the windows of a house, so he followed the car and gave State Police Dispatch a registration number for the vehicle. The homeowner followed the vehicle to a residence on Park Street in Mars Hill and Tr. Levesque arrived shortly after. The male was identified by Tr. Levesque when he pulled into the driveway and he went inside the residence and locked the door. Sgt. Fuller and Sgt. Cummings with the Aroostook County Sheriff's Office arrived to assist. The homeowner came to the door and denied who the male troopers were looking for being there. Eventually he allowed troopers to search, and they located the male they were looking for upstairs hiding. The male was on bail and he was arrested for violating his conditions of release.