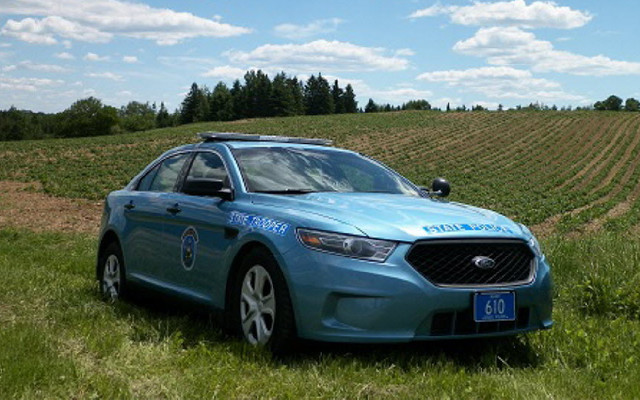 MSP_F
Maine State Police - Troop F - Aroostook County.
Maine State Police Troop F Report, Oct. 21-27, 2019
Editor's Note: An arrest or summons does not constitute a finding of guilt. An individual charged with a crime is presumed innocent unless and until proven guilty at criminal proceedings.
HOULTON, Maine — The Maine State Police Troop F barracks in Houlton responded to a number of calls for service during the period of Oct. 21-27, including the following.
Monday, Oct. 21
HOULTON: Cpl. Quint was conducting traffic enforcement and was driving through Houlton.  He observed a vehicle not displaying a front registration plate and the vehicle had a defective/leaking exhaust.  The vehicle was stopped on the Lowery Road and it was found the plates were falsely attached to the vehicle.  The male driver, who was a minor, was also found in possession of a useable amount of marijuana.  He was issued a criminal summons for the illegal attachment of plates and a civil summons for being a minor in possession of a useable amount of marijuana.
WOODLAND: Tr. Curtin responded to a Woodland residence when a local home owner reported that a woman would not leave his property after he had asked to her to leave several times.  Once Tr. Curtin arrived, the home owner stated he had given the woman a ride to another location. The pair had known each other and apparently the issue had been an ongoing problem with the female showing up and not leaving the property.  The woman was warned for trespassing.
MONTICELLO: Tr. Casavant was asked to check on a local woman when her family stated that they were concerned for her safety after not hearing from her for some time.  The woman was located and there were no issues regarding her safety. She stated that she would reach out to her family and remind them she was fine.
Tuesday, Oct. 22
FORT KENT: Sgt. Haines, Sgt. Clark, Tr. Levesque, as well as other departments, conducted ALICE training at the Fort Kent Elementary School. ALICE stands for Alert, Lockdown, Inform, Counter, and Evacuate and is designed to increase the odds of survival during a violent intruder incident.  The training was well received by staff and students. Sgt. Haines, Sgt. Clark, and Tr. Levesque have traveled to schools all over Aroostook County providing this training.
WESTFIELD: Sgt. Clark was conducting traffic enforcement on U.S. Highway 1, Westfield.  He observed a vehicle driving 78 mph in a posted 55 mph zone and stopped the vehicle. During the stop, he discovered the male driver had a suspended Maine driver's license and had current bail conditions.  Sgt. Clark issued the man a summons for speeding, and a criminal summons for operating after suspension and for violating his conditions of release. The man arranged for a licensed driver to get him and the vehicle.
EASTON: Tr. Martin was conducting traffic enforcement in Easton.  He observed a vehicle driving 66 mph in a posted 50 mph zone and stopped the vehicle.  During the stop, his investigation determined the male driver was operating under the influence of liquor.  The man was arrested and taken to Presque Isle PD for a breath test. The man later posted bail and was released.
Thursday, Oct. 24
LIMESTONE: Tr. Martin assisted the US Marshall Service with the arrest of a man wanted on Federal warrants living in Limestone.  The man was arrested without incident and transported to the Aroostook County Jail in Houlton.
Friday, Oct. 25
LITTLETON: Tr Bell conducted a traffic stop in Littleton and as a result he arrested the female operator for OAS, violating conditions of release and on an outstanding warrant.