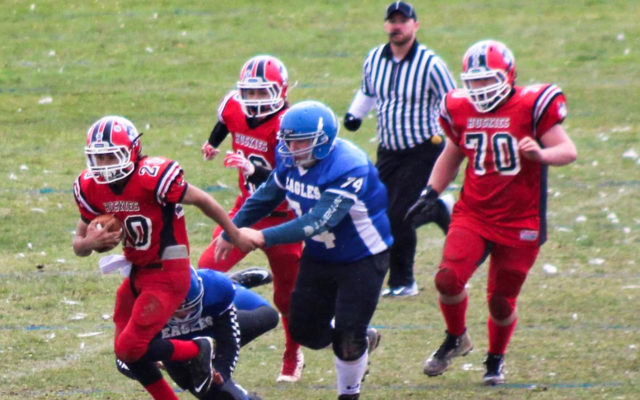 SHAR-Huskies2-45-19
Ilijaha Fortes, far left, rushes with the football during an Oct. 26 game against the Erskine Academy Eagles. The Huskies blasted to a 52-6 blowout victory. (Photo courtesy of Taylor DeFelice)
Huskies ranked second as playoffs near
SOUTH CHINA, Maine — The Aroostook Huskies football team continued its winning ways Saturday, Oct. 26, as the squad powered past Erskine Academy 52-6.
With a 5-1 record as of Oct. 28, the Huskies are currently ranked second in the Maine Independent Football League standings, one game behind the Berlin Gladiators (6-1). The Huskies have one game to play on the season, hosting the Madawaska Mustangs 2 p.m. Saturday, Nov. 2.
A win by the Huskies, coupled with a loss by Berlin, would give the local squad the No. 1 seed in the league and a bye directly to the championship. If the Huskies finish as the No. 2 seed, they will host a semifinal game on Saturday, Nov. 9 against the No. 3 seed Damariscotta Eagles.
The Aroostook Huskies battled the Berlin Gladiators to a 6-0 loss Oct. 19. The team is ranked second in the Maine Independent Football League with one game to go, Saturday, Nov. 2. (Photo courtesy of Taylor DeFelice)
Against Erskine Academy on Oct. 26, the first half was a back and forth defensive game, according to coach Taylor DeFelice. The Huskies secured a safety for the only score of the first quarter.
In the second quarter, Erskine Academy took a short-lived 6-2 lead, but on the following possession for the Huskies, Ilijaha Fortes ripped off a 40-yard touchdown to put his team up 8-6. The Huskies never trailed again.
After a defensive stop, Fortes struck again, this time converting a 15-yard run for a score. A successful 2-point conversion by Angel  Riopelle gave the Huskies a 16-6 halftime advantage.
The second half belong to the Huskies as the team scored repeatedly to blow open the game. Quarterback Dom Poisson scored on a scramble and added a 2-point conversion pass to Zaylan Johnston. On defense, Johnston picked off a pass and returned it for a score. Following another defensive stop, Poisson connected with Johnston for a 60-yard bomb.
Fortes added another rushing touchdown in the fourth quarter, followed by a touchdown  from David Hubacher to Brannon Hall and a 2-point conversion was caught by Riopelle for the final score of 52-6. 
On Oct. 19, the Huskies played the top-ranked Gladiators from Berlin, New Hampshire. "It was a very physical, defensive game that saw the Gladiators come out on top 6-0," coach DeFelice said. "There wasn't a lot of stats to go around, but defensively we were led by Kaden DeMerchant, Colby Lavoie, Ilijaha Fortes, and Connor Rideout. On offense Ilijaha Fortes had about 60 yards rushing, and 20 receiving. Connor Rideout had 30 rushing and 20 receiving."