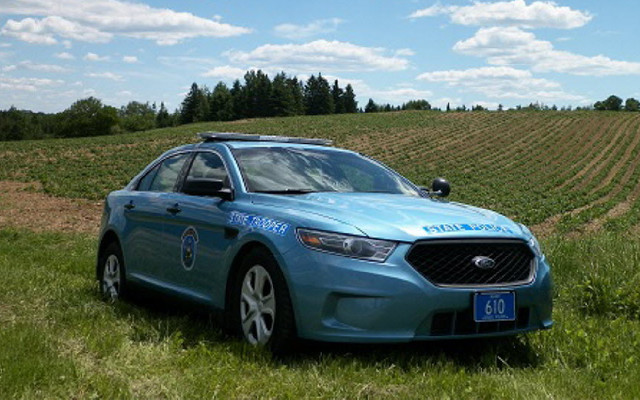 MSP_F
Maine State Police - Troop F - Aroostook County.
Maine State Police Troop F Report, Sept. 9-15, 2019
Editor's Note: An arrest or summons does not constitute a finding of guilt. An individual charged with a crime is presumed innocent unless and until proven guilty at criminal proceedings.
HOULTON, Maine — The Maine State Police Troop F barracks in Houlton responded to a number of calls for service during the period of Sept. 9-15, 2019, including the following.
Monday, Sept. 9
  PRESQUE ISLE — Tr. Casavant and Sgt. Haines were called out to assist the Presque Isle Police Department with a shooting at 23 Northern Rd. Throughout the course of the week troopers assisted PIPD and the Major Crimes Unit with emergency response team, K-9 searches, securing scenes, investigation and searching for suspects related to the shooting.  Over the rest of the week, three suspects were arrested for their involvement in the shooting. The case remains with PIPD as the victim is recovering and will survive.    
Tuesday, Sept. 10
WESTON — Cpl. Quint was conducting traffic enforcement on U.S. Highway 1, Weston.  A pickup was driving north at 91 mph in a posted 55-mph zone. Cpl. Quint stopped the vehicle and an investigation revealed the driver had a suspended Maine driver's license and had current conditions of release.  The man did not have an excuse for his excessive speed and stated he thought his license was reinstated. Cpl. Quint issued the man criminal summonses for criminal speed, operating after suspension and violating condition of release. The female passenger had a valid license and drove the vehicle from the stop.
Friday, Sept. 13
PATTEN — A female called HRCC to report that someone had stolen $200.00 from the center console of her vehicle in the early morning hours. The female subject also reported that her garage had been broken into as well, but nothing was taken. Tr. Cotton responded to the scene to investigate. Tr. Cotton determined that both the victim's vehicle and garage were unlocked. The victim pointed out that some filing cabinets and a freezer had been disturbed. Tr. Cotton took multiple DNA samples and dusted for fingerprints. Tr. Cotton conducted a neighborhood canvass to see if anyone had seen anything suspicious and learned that there has been a lot of foot and bicycle traffic on the road early in the morning. Investigation is ongoing.
Saturday, Sept. 14
WOODLAND — Tr. Levesque and Sgt. Fuller responded to a residence in Woodland for what was reported as a family fight.  While en route to the call, dispatch reported that the female at the residence had an outstanding warrant from New Hampshire and that they would extradite on the warrant.  Tr. Levesque arrested the female and Sgt. Fuller transported her to the Aroostook County Jail.
BENEDICTA — HRCC took a report of a stolen 2011 Chevy 2500 pickup truck from Benedicta. Tr. Cotton met with the victim and determined that he had been working on the truck until 0000 hours on Sept. 14, went to the store and returned home around 0100 hours. The victim parked his truck across the road and left the keys in it. The victim woke up around 0930 hours and noticed it missing. Investigation is ongoing.
MASARDIS — HRCC received a report of a motorcycle off the road on Rt. 11 in Masardis. The caller was a passerby. A Maine Forest Ranger was nearby as well as the Ashland Fire Chief and checked on the operator, who had some pain in his leg. Trooper Cotton arrived on scene and determined the operator of the motorcycle was traveling north on Route 11 and failed to negotiate a corner. Weather and speed were factors in the crash. The operator was transported by Ashland Ambulance to Northern Light AR Gould Hospital in Presque Isle with minor injuries.
ASHLAND — Tr. Casavant and Sgt. Haines assisted Ashland PD with a bail search and attempted warrant arrest.  The subject of the warrant was not located, but troopers were allowed to search the residence. The assist will be ongoing until the man is arrested.
SMYRNA — Tr. Saucier was on patrol and had occasion to stop a male operator in Smyrna for speeding.  As a result of the investigation, a 31-year-old Smyrna man was arrested for operating under the influence and transported to the ACJ. 
Sunday, Sept. 15
LITTLETON — Troopers Sylvia and Saucier responded to Littleton for a report by a homeowner that someone was inside their house.  They located a highly intoxicated male outside and found he was so disoriented he thought it was his house. No entry was gained and the male was given a ride home. 
ORIENT — Tr. Sylvia began a theft investigation in Orient.  The homeowner returned from Japan to find a family member had moved people into his home and some of his belongings are missing.  The investigation is ongoing.