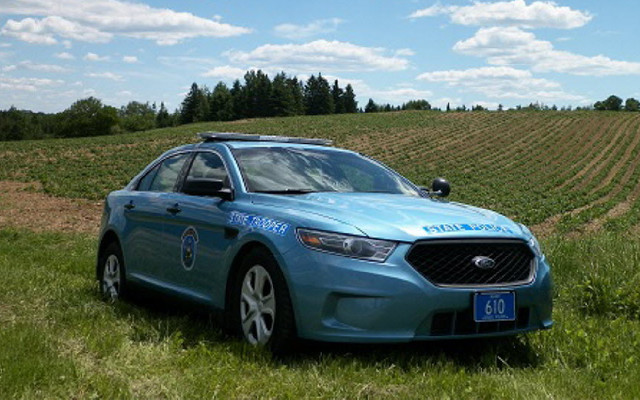 MSP_F
Maine State Police - Troop F - Aroostook County.
Maine State Police Troop F Report, Aug. 12-18, 2019
Editor's Note: An arrest or summons does not constitute a finding of guilt. An individual charged with a crime is presumed innocent unless and until proven guilty at criminal proceedings.
HOULTON, Maine — The Maine State Police Troop F barracks in Houlton responded to a number of calls for service during the period of Aug. 12-18, including the following. 

Tuesday, Aug. 13
MAPLETON: Trooper Desrosier investigated a violation of protective order in Mapleton.  A man filed a protective order against his brother. The brother, in violation of the order, went to the man's place of employment.  The man was arrested and found also to be on probation with conditions not to use/possess liquor. Tr. Desrosier determined the man violated his probation and conducted a breath test using his PBT.  His probation officer placed a probation hold on him due to the PO violation and his violating his conditions with liquor.
Wednesday, Aug. 14
GRAND ISLE: Tr. Desrosier assisted the Aroostook County Sheriff's Department with a burglary investigation.  When Tr. Desrosier and the deputy arrived at the residence, they caught three suspects leaving. It was determined none of them had permission to be at the residence and they were there stealing.  Subsequent to an in-depth investigation, the trio was arrested for burglary, theft, trespassing, drug trafficking, possession of methamphetamines and possession of drug paraphernalia. All three were transported to the Aroostook County Jail in Houlton.
LITTLETON: A female called to report someone had burglarized her boyfriend's vehicle. Tr. Cotton arrived on scene and found the door to the owner's pickup open. The boyfriend advised Tr. Cotton that nothing was taken but the truck had been gone through.  Tr. Cotton took pictures of the incident and observed skid marks near the mouth of the drive way on Route 1. The owner was worried someone might have planted something illegal in his truck so Tr. Cotton advised him to thoroughly check the truck in the morning and report if he found anything missing or anything new. The investigation is ongoing. 
Friday, Aug. 16
WALLAGRASS: Tr. Desrosier was conducting traffic enforcement on State Route 11, Wallagrass.  He encountered a vehicle speeding and conducted a traffic stop. During his investigation, the driver was found to have an active arrest warrant for failing to appear in court on a prior OAS charge.  The man was arrested but was able to post bail immediately. The man was issued a traffic summons for exceeding the posted speed limit.
Saturday, Aug. 17
PATTEN: Cpl. Quint investigated an incident in Patten.  It was reported by a homeowner that approximately 12 juveniles were walking the streets throwing firecrackers into people's yards.  The man asked the kids to stop doing it to his property and there was a small verbal confrontation. The kids walked away from the residence but kept being belligerent to the homeowner.  Cpl. Quint checked the area for an extended period but did not locate anyone walking. Sgt. Turcotte and Tr. Bragan of Troop E were also in the area on an unrelated issue and assisted in looking for the juveniles.  The homeowner did not recognize any of them.