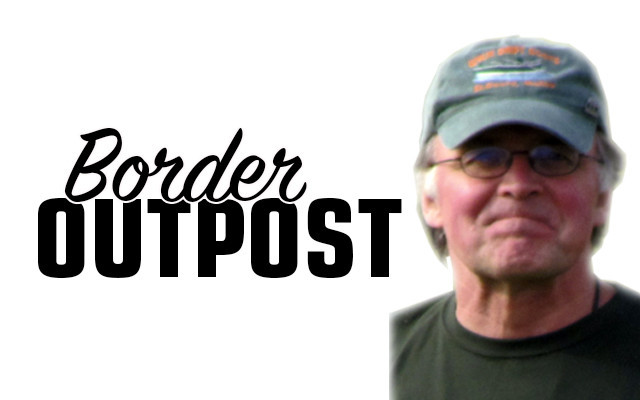 BorderOutpost-Wylie-640×400
An extinction revolution
I can only talk about this personally, because it's about my part or lack of participation.
Some thirty or more years ago, back when I was working for a community on what I call a 'nine to five' regular job, the then town manager sent me to attend a conference on climate. He sounded slightly contemptuous about the event, calling it "you know, one of those save the whales things." On the other hand I was interested in what people's perspective on the matter would be, having helped orchestrate a little demonstration on pollution in high school years earlier. This was back before the idea of climate change had any momentum, almost 50 years ago.
The high school "demonstration" consisted of giving a talk on how pollution was affecting the earth around the first Earth Day events. I asked my mother to bake a cake that I later poured used motor oil on and stuck bits of junk into as an example of "You can't eat your cake" if it's fouled like this. 
Stay with me here. I was — what? — 17, and didn't know any better. The crude symbolism was an idea that if we dirty the planet, we still have to live in it; that sort of thing.
I'm amazed at how awkwardly idealistic I was back in the day, and admittedly I haven't done much since other than be mindful of certain things and not to dirty up matters as much as possible. That was nearly 50 years ago, mind you, well before anyone had much of any notion about global warming and climate change.
The conference was in southern Maine somewhere, and my guess is about 10 years afterward. The speaker onstage was an earnest gentleman who asked questions about what the impacts of global warming would be and how do we address them. People in the audience raised their hands and suggested that "Bridges and roads would need to be moved because of rising oceans," and we would need to recycle and pollute less. I raised my hand and said the only thing that came to mind: "global economic collapse." The speaker abruptly stopped short with his query and pointed me out to the rest of the audience.
"Right," he noted. It appeared to change the tenor of the discussion.
I believed then and still believe that global economic collapse is a natural consequence of ignoring a changing climate. Admittedly, I've never been a fan of consumer and corporate capitalism. Right now, it manifests itself in the blatant ownership and operation of our democracy, that the government of this republic is a proposition that we have the best democracy money can buy. I paraphrase Mark Twain here, as he said it best.
The problem of global climate change is not strictly one where the means of energy production has to change, but that democracies in particular have to pay attention to what people really want and need rather than others in power stating what they want and need. After years of observation, I can firmly state that corporate capitalism and true democracy are utterly incompatible. The climate change that's now occurring more rapidly than ever is merely the result of pursuing and amassing wealth by one means only: corporate capitalism.
The disparity in incomes and existing power structures create two classes of people: those who have the money and power and those who don't. Whatever we say or do about reviving a dying planet becomes impossible if the wealthy corporate class controls the levers of government to their advantage and leaves the rest of us out. It's a scenario that inevitably leads to global economic collapse.
I've ceased to believe that climate change is merely an environmental problem. It's a fundamentally economic one, motivated by those in power seeking benefit to themselves at the expense of other people; meaning 'us'.
I was reading about the Extinction Rebellion movement that's now going on in the UK, and their main tactic is to stop traffic as a means of slowing the pace of economic progress toward its inevitable end result; human and planetary extinction. However, slowing progress to that end isn't necessarily stopping that progress. That would require motivation on a global political scale; an extinction revolution.
Fifty years after that feeble attempt on my part, one can safely say the next cycle of hurricanes will be catastrophic as a result of climate changes of our own manufacture. With planetary icecaps melting, the impacts will be devastating within the next decade. The species has to decide what the future will look like. It's for our great grandchildren, if it's for anyone at all. We supposedly have a democracy. Let's use it.
Otherwise, great-great grandchildren won't exist, nor will anything else.
Dave Wylie's life and work experience runs the gamut from newspaper editor to carpenter to grant writer to boat builder with lots of other work wedged in-between. Wylie currently is president of a management company that oversees an elderly housing complex and president of the local historical society. He resides in Madawaska.