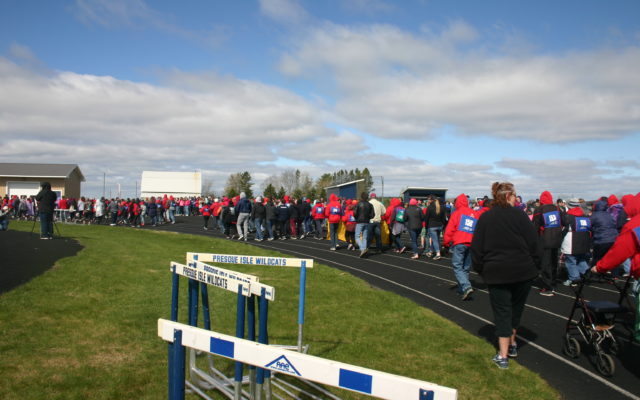 SpecialOlympics
Three hundred and five athletes from 25 schools and agencies in Aroostook County marched halfway around the track and field at Presque Isle Middle School during the opening ceremonies of the Special Olympics Spring Games on May 11, 2018. (Staff Photo/Melissa Lizotte)
Presque Isle to host 43rd Special Olympics Spring Games on May 16
PRESQUE ISLE, Maine — The Special Olympics Aroostook County Area Management Team will host the 43rd annual Spring Games on Thursday, May 16, at the Johnson Athletic Complex at Presque Isle Middle School. 
Organizers originally planned the event for Friday, May 10, but due to inclement weather have rescheduled the Games for May 16.
Registration will start at 8:30 a.m. and the opening ceremony will begin at 9 a.m. Members of the community are invited and encouraged to attend the day's activities.
Organizers expect more than 300 athletes from Houlton to Fort Kent to participate in this year's event, which will include competitions in the standing long jump, 100-meter run, softball throw and relay races.
Every year, scores of coaches, parents, aides, school officials and athletes gather at the athletic complex for a day of competition, achievement and valiant efforts.
"'Let me win, but if I cannot win, let me be brave in the attempt,'" event chair Steve Richard said. "Those are the words of the Special Olympics motto, and that's exactly the kind of inspiring attitude our local Special Olympians have in participating in this event. They spend all year preparing for the Spring Games and their chance to gather together and compete with the crowds cheering them on.
"Everyone in the community is encouraged to come and join us — it'll be an experience you'll never forget," he added.
Richard said the area management team is only able to pull off the Spring Games each year because of the help it receives from a host of local volunteers and sponsors. More than 150 volunteers will participate in the day's events, including local National Honor Society students, the Maine State Police and other law enforcement officials, Kiwanians, and employees from local businesses.
Winners at the Aroostook Spring Games are eligible to compete at the Special Olympics Maine Summer Games, which will take place June 6 to 9 at the University of Maine in Orono. Top finishers there go on to compete at the national Special Olympics.
The mission of Special Olympics Maine and Special Olympics Aroostook County is to provide year-round sports training and athletic competition in a variety of Olympic-type sports for children and adults with intellectual disabilities, giving them continuing opportunities to develop physical fitness, demonstrate courage, experience joy, and participate in sharing of gifts, skills, and friendship with their families, other Special Olympics athletes, and the community.
For more information about the Spring Games in Presque Isle or to become a volunteer for the Special Olympics Aroostook County Area Management Team, contact Michele Blackstone at micheleblackstone@yahoo.com.