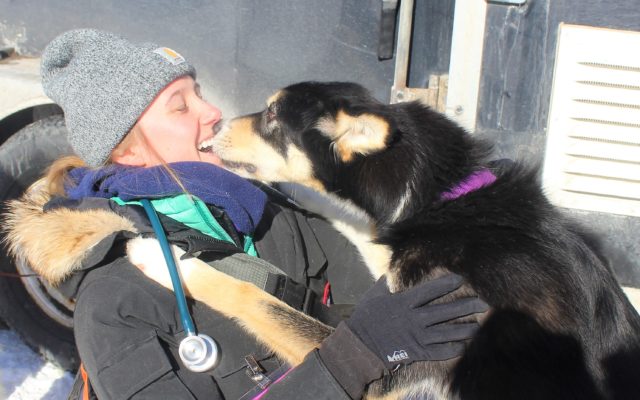 10298881_H24494778
Veterinarian Katie Monick gets a kiss from Whiskey, a member of Team Massicotte on Friday morning at the Lonesome Pine Ski Lodge in Fort Kent. Mushers arrived Friday to have their dogs examined by volunteer veterinarians and to register for the Can-Am Crown International Sled Dog Races March 2-4. (Jessica Potila | SJVT/FhF)
Mushers and dogs arrive in Fort Kent for Can-Am
FORT KENT, Maine — Pick-up trucks pulling trailers are a common site in Fort Kent but on Friday there were more than usual around town and many were topped with dog kennels as mushers from around the United States and Canada arrived to compete in the Can-Am Crown International Sled Dog Races.
Total prizes of more than $40,000 are attracting participants in the Irving Woodlands Can-Am Crown 250, Willard Jalbert Jr. Can-Am Crown 100 and Pepsi Bottling & Allen's Coffee Flavored Brandy Can-Am Crown 30.
Registered mushers range in age from 13 to 62 and come from states as far as New York and Minnesota and from three Canadian provinces.
Throughout the day on Friday, the mushers brought their teams to the Lonesome Pine Trails parking lot where crews of volunteer veterinarians and technicians examined the dogs to ensure their health and fitness prior to the races, which begin on Saturday morning.
Nine-time Can-Am 250 champion Martin Massicotte's dogs appeared calm and confident as they awaited their examinations by Chicago veterinarian Katie Monick.
"Everyone looks really good. They are obviously very well cared for," Monick said of the Massicotte team. "They look like they're really happy and ready to go."
This is Monick's second time volunteering at Can-Am, her first being in 2017 when she was still a veterinary student. Monick said she is happy to be back at Can-Am.
"I just love it — the people, the dogs, the town. It's definitely a magical place to be that's for sure," she said.
Mark Bloomer, meteorologist with the National Weather Service in Caribou said the mushers and their teams can expect mild weather throughout the weekend with a slight possibility of a dusting of snow Saturday.
"Saturday looks pretty decent, close to seasonable; maybe a degree or two shorter. The high up in the Valley should be about 26 degrees and winds will be real light, around three miles per hour," he said. "It's gonna be pretty tranquil."
Sunday should produce similar weather, perhaps a few degrees warmer than Saturday, according to Bloomer.
Massicotte, of St.-Tite, Quebec, said the forecast is not ideal for mushing but that he is confident in his team's ability to power through.
"Often the Can-Am will have some warm weather with a punchy trail. It's happened often. We know how to deal with that," he said.
Massicotte said he thinks his dogs can pull off their sixth straight Can-Am 250 victory and 10th overall.
"Yes, we can win, but it's never easy and never guaranteed," he said.
A musher with much less experience than Massicotte, 13-year-old Florence Shaw will compete in her first ever Can-Am 100 event. Shaw, of Fermont, Quebec, competed in the 30 mile race last year, and said she is excited to race in the longer event.
"I'm used to going into the woods. My father showed me the way," she said, referring to Yann Shaw, who will compete in the 250 this year. He said he is not worried about his daughter being out on the trail.
"She's always training the dogs for very long distances," he said.
"I really like to be outside in the woods," Florence Shaw said. "The relationship with the dogs is very important to me. I have a bond with them. It is a beautiful relationship. The dogs work for me, but also, I work for the dogs."
The Can-Am Crown International Sled Dog Races will kick off at 8 a.m. on Saturday, March 2, on Main Street in Fort Kent. Mushers and their teams competing in the 100 mile race will take off from the starting line first, followed by those competing in the 30 mile race at about 9:10 a.m.,and then the 250 mile race at about 10:20 a.m.
For more information about the Can Am Crown International Dog Sled Races, including a live link to follow the musher's progress, visit the organization's website.