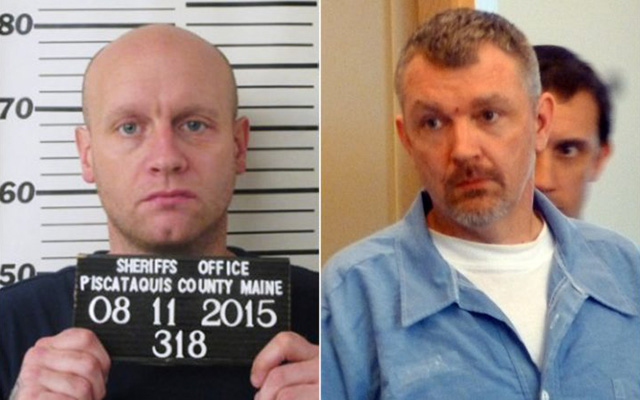 pjimage-2-720×445
Robert Burton (left) and Anthony Lord (Contributed | BDN)
2 murderers appeal their cases before Maine's high court
The man who killed his ex-girlfriend then led authorities on Maine's longest manhunt and a murderer who left two dead and others wounded after a two-county rampage have asked the state's high court to reconsider their cases.
Robert Burton, 41, of Abbot is serving a 55-year sentence at the Maine State Prison in Warren for killing Stephanie Ginn Gebo, 37, of Parkman after breaking into her home more than three years ago. A jury convicted him of murder in October 2017.
Burton, who turned himself in Aug. 11, 2015, after 68 days on the run, is seeking a new trial. He claims the jury should not have been told about two prior convictions for burglary. He also argues that potential jurors should have been able to answer "unsure" on some questions, and his attorneys' proposed questions should have been included on forms filled out by potential jurors.
Anthony Lord, 38, of Crystal is challenging the way his two life sentences were imposed after he pleaded guilty to murdering Kyle Hewitt, 22, of Benedicta and Kevin Tozier, 58, of Lee; shooting and wounding Kim Irish, 57, Clayton McCarthy, 57, and Carlton Eddy, 52, all of Benedicta; and assaulting Kary Mayo, 40, of Silver Ridge with a hammer during a rampage in July 2015. Lord also is incarcerated at the Maine State Prison in Warren.
To read the rest of "2 murderers appeal their cases before Maine's high court," an article by contributing Bangor Daily News staff writer Judy Harrison, please follow this link to the BDN online.