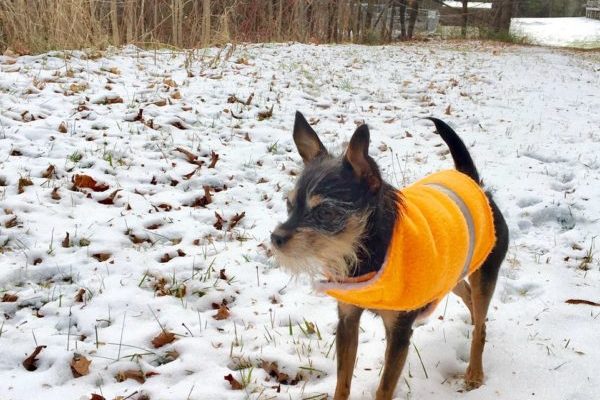 AX243_17CB_9-600×639
A small dog wears a bright orange sweater in Fort Kent on Tuesday, Nov. 14, 2017. Scant amount of snow have fallen in Maine so far this fall, including some in southern Maine on Monday. Daytime temperatures are expected to be above freezing throughout most of Maine for the remainder of November, but there is a chance that parts of the state could have snow on the ground for Thanksgiving. (BDN photo/Julia Bayly)
Cooler weather may not mean a white Thanksgiving for Maine
Prior to Monday, Maine has seen scant snow so far this fall, thanks in part to experiencing its warmest October on record.
Temperatures have since cooled, producing some snow in parts of Maine. A small amount of snow fell in far northern Maine last week, but much has since disappeared. More than an inch fell Monday in Gray, where the National Weather Service maintains a meteorological office, while smaller amounts fell along the southern Maine coast. Daytime temperatures above freezing are expected to melt that snow fairly quickly.
Maine might have a white Thanksgiving, according to The Weather Channel. Based on historical probabilities, far northern Maine has a 60 to 80 percent chance of having snow on the ground in time for the holiday next week, while central and coastal Maine have a 20 to 40 percent chance.
But long-term forecasts suggest that it may be December before any substantial snow comes along for much of the state. The Weather Channel also indicates that daytime temperatures are expected to remain above freezing through November for most of the state.
The Fiddlehead Focus / St. John Valley Times is pleased to feature content from our sister company, Bangor Daily News. To read the rest of "Cooler weather may not mean a white Thanksgiving for Maine," an article by contributing Bangor Daily News staff writer Bill Trotter, please follow this link to the BDN online.