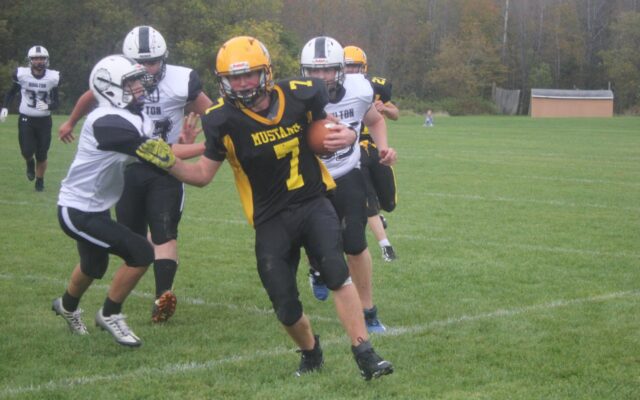 SJ-mustangshoulton4-100122
FORT KENT, Maine -- October 1, 2022 -- Valley Mustang Gibson Ouellette breaks away from Houlton defenders during a home game in Fort Kent on Oct. 1. The Shires won 42-6. (Jessica Potila | St. John Valley Times)
Shires top Valley Mustangs in first County football contest
FORT KENT, Maine – For the first time in history, two Aroostook County high school squads met on the gridiron for an official Maine Principals' Association varsity contest.
Houlton made the trek north to the St. John Valley Saturday to take on the Valley Mustangs – a collaborative football team made up of Fort Kent, Madawaska and Wisdom. The visiting Shires emerged victorious 42-6.
For Houlton (1-4), it marked the first win of the year in what has been a difficult season for a relatively young Shire squad.
For Fort Kent, it was another step in learning to become competitive in its first full-fledged season as a varsity team.
"It's good having another team in The County and to see football growing in the state," Houlton coach Jon Solomon said. "It gives kids an opportunity they didn't have before. We have a lot more experience than they do, that's what you're seeing this year, the most experienced teams on the winning side."
Both squads kept the ball on the ground for much of the contest. Houlton quarterback Isaiah Ervin completed 3-of-4 passes for 41 yards and a touchdown. He also ran the ball four times for 30 yards.
Valley Mustangs quarterback Jovanie Garced completed just 1-of-6 pass attempts, but his one completion was a 46-yard touchdown strike to Gavin Severe with 5:06 remaining in the third quarter.
"I think Saturday's game showed real growth in our young team," Valley coach Ron Dalgo said. "We have been behind four or five touchdowns in the first quarter all year. Saturday, we were only down 8-0 after the first quarter and showed we played tough and have improved in our tackling."
Shire AJ Lewis ran for 55 yards on seven carries, with two rushing touchdowns. Landon Laferriere had nine carries for 50 yards and a touchdown, while Aedan Valles had four carries for 37 yards and a score. Daniel Clark chipped in five carries for 30 yards and a touchdown, while Wyatt Sanford added three carries for 23 yards.
Houlton's Jackson Cullen hauled in two passes for 50 yards and a touchdown.
For the Mustangs, Gibson Ouellette had 11 carries for 39 yards, while Dustin McBrieaty had six carries for four yards and Brady Hodgkin had one rush for three yards and also had one catch for 11 yards.
"Houlton is a big, strong and talented team," coach Dalgo said. "They are just too overpowering against our offense, which made it very difficult to move the ball on them. The final score doesn't fully show the extreme amount of growth we have had if you haven't seen us play. We're very young and as a coach I'm very proud of the growth we showed and look forward to getting better each week. I'm most proud of how all the kids improved on defense and how this team has no quit."
The Valley Mustangs travel to Orono Friday and close out their season on the road Oct. 14 against Stearns. The Houlton Shires have two games left on the schedule – at home Friday against Mattanawcook Academy and at Mt. View of Thorndike Oct. 15.
St.John Valley Times reporter Jessica Potila contributed to this article.