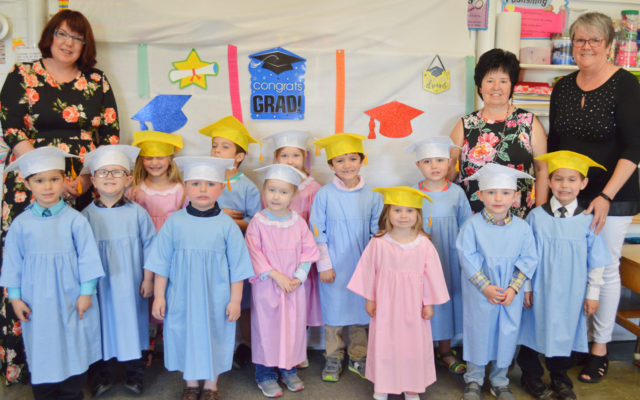 SJ-KidsGrad-27-19
Le Club Français of the St. John Valley sponsors a French preschool at Dr. Levesque Elementary school in Frenchville. In a celebration at the end of the 2018-19 session, the students shared with family and guests some of the French they had learned during the school year. The young graduates include, from left, front row: Lucas Bouley, Malachi Pelletier, Hayden Pelletier, Ryleigh Favreau, Avery Gagnon, Oliver Theriault and Elijah Grange. Back row, Raeya Babin, Lucas Corriveau, Izabelle Gagnon, Joseph Paradis and Shea Fogarty. Staff include, from left, Rachel Fortin, teacher aide; Pauline Chamberland, teacher; and Carol Parker, teacher aide. (Courtesy of French Youth Programs)
French pre-K school re-opens after two years of forced hiatus
FRENCHVILLE, Maine – French pre-K and after school activities are back. Up until a few weeks ago, the French Youth Preschool Program for the area children had been previously known as La Maternelle. This was an entity founded and developed through the dedication of a well-respected teacher in the Valley, Cleo Ouellette of Frenchville.
Thanks to her desire to bring the local French language to children, to the next generation and beyond, Le Club Français hopes to grow its language from the roots up to the stars. For this and so much more, Valley residents can be forever grateful to her 
After a hiatus of two years with no classes, Le Club Français's private pre-K is almost literally rising from the ashes of the former Dr. Levesque School in Frenchville and has found new life at the St. John River Valley Technical Center in Frenchville.   
In addition to an updated program, the name of the programs has been updated to Ma Petite École, a pre-K school that truly belongs to the community, teaching the regional French to children that they hear every day all around them, while being immersed in a safe, creative, and fun classroom full of other children ages 3 to 5..  
In addition, what was formerly known as the Bilingual Buddies after school class, now has become Mes Amis, a group of friends in kindergarten through fourth grade getting together to have snacks, socialize, play, craft, sing and, of course, learn French.   
Students and parents will find a new classroom, perhaps a few new teachers, new material, and anew ambiance, along with these new names this fall.
Le Club Français President James Lavertu said the French pre-K has always been successful, welcoming approximately a dozen students in two half-day sessions and afterschool enrichment activities in at least two locations. 
 "Parents who want their pre-K children to be exposed to French are encouraged to look into Ma Petite École. Ma Petite École does everything a pre-K does except we do it all in French," he said. 
Don Levesque, a former St. John Valley Times publisher, heads Le Club Français's Comité d'education. "We are very excited about the future success of Ma Petite École and Mes Amis," he said.
The committee now wants to hire a teacher and teacher assistant who speaks French and also loves to work with young children. Anyone interested can contact Le Club Français. 
If you, or someone you may know, is interested in taking on this role, contact mapetiteecoleacadie@gmail.com or by phone at 207-316-9639. 
Ma Petite École will be located in the St. John Valley Tech Center in Frenchville.  
"We are very happy to have found a classroom in Frenchville once again," Levesque said, "As we all know, Frenchville is pretty central to students from Madawaska to Fort Kent and beyond." 
Ma Petite École will run two three-hour sessions on Mondays, Wednesdays, and Fridays, said Levesque.  
A small group of students, numbering between eight and 10, will attend the morning sessions and another group will attend the afternoon sessions.   
After school Mes Amis, will be open three days a week, Monday through Wednesday and will be run from  directly after school until 4:30 p.m.  
Two locations will welcome our after-school friends at The Valley Unified building in Madawaska and in The Fort Kent Elementary School in Fort Kent.