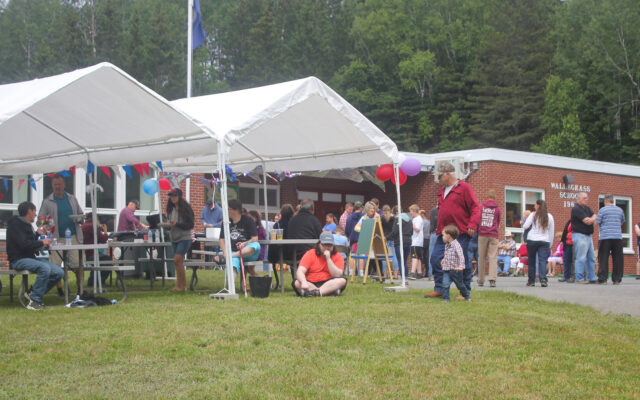 Pondfest6
Pondfest 2021 raised more than $6,000 to help support the construction of a local a veteran's monument. (Jessica Potila | St. John Valley Times)
PondFest group to hold Mother's Day and Father's Day fundraisers
WALLAGRASS, Maine — The Soldier Pond/Wallagrass Revitalization Committee, known for its annual PondFest events, has added two new fundraisers this year — a Mother's Day spaghetti supper, and a Soldier Pond Fishing Derby to be held during Father's Day weekend. 
The Soldier Pond/Wallagrass Revitalization committee hosts the family-friendly PondFest celebration each year to raise funds for local community improvement efforts.
The 2021 PondFest celebration raised thousands of dollars to support a Tri-Community Veterans Memorial, a joint effort between the towns of Wallagrass, New Canada and Cross Lake to assemble a memorial on the shores of Fish River at Soldier Pond. 
The Mother's Day spaghetti supper will take place the day before Mother's Day, Saturday, May 7, at Wallagrass Community Center. Volunteers will prepare homemade spaghetti sauce and dinner rolls. 
The meals will be $12 for adults and $8 for students, with proceeds to benefit the Greater Fort Kent Ecumenical Food Pantry.
A homemade quilt created by Mable Pelletier of Allagash will be raffled off at the event. There will also be a 50/50 raffle and door prizes will be awarded throughout the evening. Flower bouquets and potted plants will be available to purchase. 
The Soldier Pond Fishing Derby will be held June 18 and 19. The fishing area will begin from the southside of Fish River Falls, and continue to the screens where Eagle Lake enters into the Fish River.
Hot dogs, fries and beverages will be sold throughout the weekend.
All money raised from the fishing derby will be donated to support the Tri-Community Veterans Memorial. 
Fishing derby participants will receive a free meal ticket to the 2022 PondFest event, which will take place on Sunday, July 3.
Information about the fishing derby, including how to register, fishing categories and prizes to be awarded, will be available at a later date. 
Anyone who would like to volunteer at any of the events should contact the Wallagrass Town Office at 1-207-834-2263.