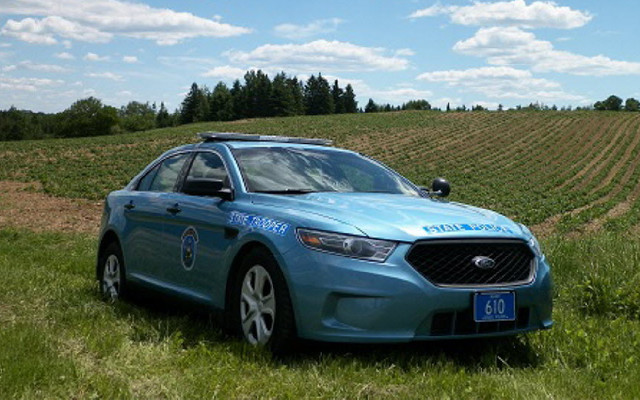 MSP_F
Maine State Police - Troop F - Aroostook County.
Maine State Police Troop F Report, Feb. 28-March 6, 2022
Editor's Note: An arrest or summons does not constitute a finding of guilt. An individual charged with a crime is presumed innocent unless and until proven guilty at criminal proceedings.
HOULTON, Maine — The Maine State Police Troop F barracks in Houlton responded to a number of calls for service during the period of Feb. 28-March 6, including the following.
Thursday, March 3
VAN BUREN — Trooper Desrosier was conducting traffic enforcement in the town of Van Buren when he stopped a vehicle for a traffic violation.  Tr. Desrosier learned that the operator's driver's license was currently under suspension.  Tr. Desrosier issued the operator a summons for operating after suspension.
LINNEUS — Tr. Rider and Tr. Castonguay received information from Detective Bell of a wanted subject that had an active warrant for manslaughter with a $15,000 bail in the town of Linneus.  Tr. Rider and Tr. Castonguay located the subject and placed her under arrest.  Tr. Rider with the assistance of Troop E transported the woman to Penobscot County Jail without incident. 
Friday, March 4
BIG MACHIAS LAKE — Sgt. Haines and Tr. Mahon arrested a 60-year-old Hancock County man on several warrants after receiving information he was hiding at a camp in the North Maine Woods.  On March 3, the Maine Warden Service had received a tip that the man was staying at a family member's cabin that was 20 miles in from Ashland on the Realty Road.  The suspect had extensive criminal history and the warrants dated back to 2010.  On March 4, the Maine Warden Service referred the information to the state police after the owner of the camp called to report the man did not have permission to be at his camp and wanted him removed.  The man was taken into custody without incident and transported to Hancock County Jail.