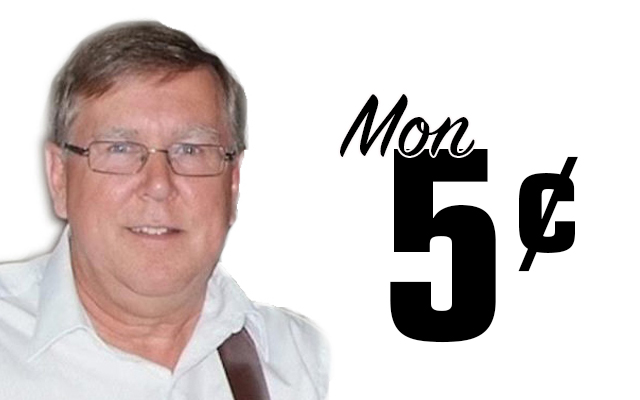 57 la lettre L
Y a tu faite assez frette pour toué? Moué j'suis a la retraite so j'sortais pas trop trop. Mais le poêle a bois dans la cave y a gouté. On l'fait pas chauffer souvent mais y a chauffé en p'tiot pepére pendant l'mois d'janvier.
Le mois d'fevier est pas long pi l'temps commence a s'réchauffer vers la fin du mois. Découragez vous pas.
Voici la lettre L:  
la corde du tchoeur y pend (traine) dans 'marde – literally: his heart rope is dragging in his poop; lazy
la fête des niége – literally: the snow feast; if there are lots of clouds on August 15, there will be a lot of snow this winter
langue de chatte – literally: cat's tongue; flat rubbers worn over dress shoes (only the sole of the shoe was protected)
l'argent s'en va, la bête nous reste – literally: the money goes, the beast stays; what happens when you marry for money
larguer – let go; release
la djeule comme une vieille paire de shoupaque – literally: mouth like an old pair of shoes; toothless
l'aire abbatue – appear beaten down, depressed
La Grosse Menteuse – literally: the big liar; Bangor Daily News
l'aire bête – appear mean-spirited
la lune s'a tête – literally: the moon on his head; baldheaded
la paix dans l'potte! – literally: peace in the (piss)pot; it's finally over!
La Pètite Décharge – literally; the little discharge (of water): Sinclair, ME
latoutéltrouyé – (old riddle: slat remove, hole is) latte outé, l'trou y'est
l'bon yeux ta puni – literally: God is punishing you (usually told as a joke)
l'bon yeux va t'punir – literally: God will punish you
l'chaudron qui rit d'la bombe – literally: the pot that laughs at the hot water kettle; the pot calling the kettle black
l'commis est tu la? – literally: is the clerk there?; What to ask a man with unzipped pants. (Bend down when you say it and look at the zipper)
l'commis est tu sorteu? – literally: does the clerk go out much?; what to ask a man with unzipped pants
l'djahbe 'e l'barse – literally: the devil's rocking him; he's going very fast
l'djahbe s'en mêle – literally: the devil is mixed up in it; Murphy's Law
l'djahbe a sa patte – literally: the devil to his foot; everything is confused; everything is included
l'djahbe par la tcheu – literally: the devil by the tail; very fortunate
l'écapeau part d'après 'a shousse – literally: the bark comes from the stump; like father, like son
les corneilles on passées – literally: the crows have passed; the cow had a calf
les journeaux – Dec. 26, 27, 28, 29, 30, 31 and Jan. 1, 2. 3, 4, 5, 6 (les journeaux) foretell the weather for the next six months. The weather on Dec. 26 foretells the weather for January; the weather on Dec. 27 foretells the weather for February; the weather on Dec. 28 foretells the weather for March, etc.
les pieds gélé jusqu'au nombri – literally: feet frozen up to the navel
les p'tit bonhomme danse su'l'tar – literally: the little men are dancing on the tar; raining very hard
lette comme sept tchu – literally: ugly as seven asses; very ugly
l'fond du carre – literally: the bottom of the barrel
l'frette est pas chaud – literally: the cold isn't hot; it's very cold 
l'temps est bouché comme un trou t'chu – literally: the sky is blocked like an anus; there's a storm coming
l'vée 'es pieds – literally: lift one's feet; move, leave the area; drop dead 
Don Levesque is a Grand Isle native who worked in community journalism for almost 35 years. He was the publisher and editor of the St. John Valley Times for 15 years prior to retiring in 2010. He wrote a weekly newspaper column, called Mon 5¢, in the Valley Times for more than 20 years. He has been inducted into the Maine Journalism Hall of Fame and the Maine Franco-American Hall of Fame.