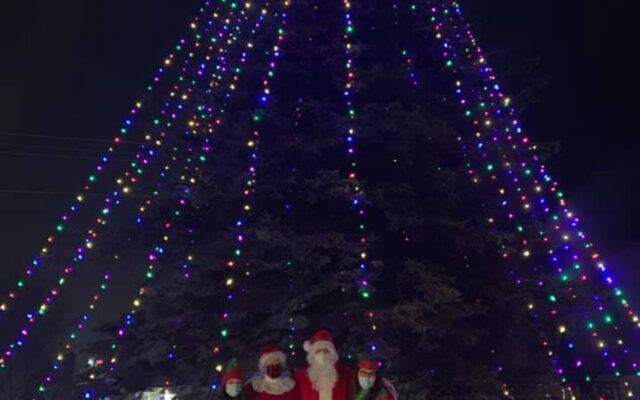 treelighting
The 2020 Fort Kent Town Christmas tree stands tall with holiday spirit outside the Fort Kent Public Library.
Fort Kent Lions Club seeks participants for Festival of Trees fundraiser
FORT KENT, Maine — The Fort Kent Lions Club is seeking real, artificial or handcrafted trees. The public service group is initiating a new Christmas-themed fundraiser, The First Fort Kent Festival of Trees.
Individuals, groups, businesses and organizations can donate a tree decorated in any style, and accompanied by gifts of some sort. Trees can have a theme that is consistent with a certain group, such as a grocery store decorating a tree with food, or a gas station providing automobile-related gifts. A theme is not necessary, however.
The trees will be displayed at the Lions Pavilion near Riverside Park the weekend of Dec. 11-12.
Visitors can peruse the different trees and enter raffle tickets in a bucket next to the tree they would like a chance to win. At the end of the event, the Lions will draw a winning ticket from each bucket. The raffle winner receives the tree, and any decorations and gifts associated with it.
The raffle tickets will cost $5 for 10 tickets, or 10 chances to win a tree.
All money raised through ticket sales will benefit local community projects throughout the Lions service area.
To donate a tree to the cause, send a message on the Fort Kent Lions Club Facebook page or an email to Festivaloftreesfortkent@gmail.com