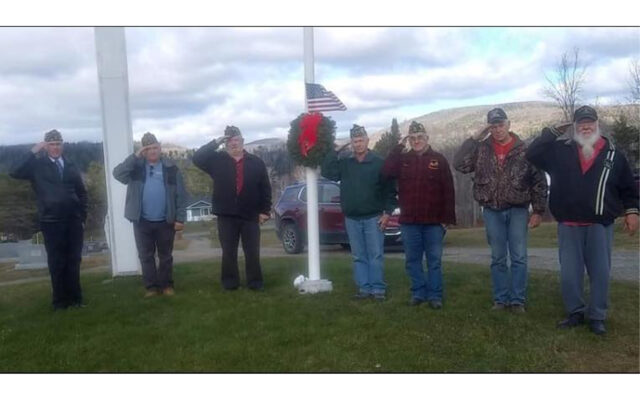 Untitled-1 copy
Members of Jandreau-Connors American Legion Post 180 of St. Francis placed wreaths at local cemeteries to pay respect to veterans laid to rest in them. From left, are, Post 180 Commander Keith Jandreau, Jr., Gary Michaud, Stanley Pelletier, Vernon Pelletier, Norman L'Italien, John O'Leary, and Paul "Moses" Lessard. (Courtesy of Paul "Moses" Lessard)
American Legion Post 180 members remember veterans with wreath ceremony
ST. FRANCIS, Maine — Members of Jandreau-Connors American Legion Post 180 of St. Francis paid their respects to veterans laid to rest in eight area cemeteries on Veterans Day.
"Our country owes a tremendous debt of gratitude to its service members, past and present, and especially to those who have paid the ultimate sacrifice," Post 180 Commander Keith Jandreau Jr. said.
Friends of St. Francis purchased the wreaths, which were each hung on poles along with a small U.S. flag at cemeteries in Allagash, St. Francis and St. John.