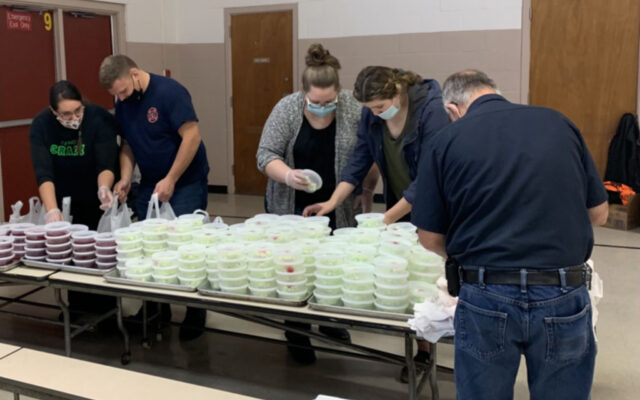 SJ-allthingsbecomenewmeals-11-26-20
Volunteers prepared nearly 300 Thanksgiving meals which the non-profit All Things Become New provided free to area residents last year. (Courtesy of Suzanne Morneault)
Eagle Lake non-profit to provide free Thanksgiving meals again
EAGLE LAKE, Maine — All Things Become New of Eagle Lake will again provide free Thanksgiving meals this year. 
The non-profit organization will provide deliveries of the turkey meals on Thanksgiving Day, Thursday, Nov. 25, to anyone in the Eagle Lake, Wallagrass/Soldier Pond and Fort Kent areas.
Brain injury survivor Mindy Forino and her mother Suzanne Morneault founded All Things Become New after Forino, an award-winning soccer goalie, incurred a traumatic brain injury during a college soccer game in 2010.
The mission of All Things Become New is to provide education about traumatic brain injuries and facilitate support groups for people affected by brain injuries.
In 2017, All Things Become New opened a "Haven of Rest" home in Eagle Lake to provide free respite to caregivers in the peace and tranquility of northern Maine.
Last year volunteers prepared and delivered 278 Thanksgiving meals to anyone who signed up to receive them. 
The project was inspired by the many folks who were homebound due to COVID-19. 
"Although it's not as bad this year, many are still homebound in order to stay healthy and with the increase of fuel costs," Morneault said. "I believe this is a huge financial help as they don't have to go out, buy all the groceries and cook the meals themselves."
Morneault would like to expand the meals to include people in St. John, St. Francis and Allagash and is seeking volunteers to deliver meals to those towns. 
The Thanksgiving meals will each include turkey, mashed potatoes and gravy, stuffing, peas and carrots, Watergate salad, a bun and a pumpkin bar with cream cheese frosting.
To sign-up for a free Thanksgiving meal for yourself or another person by Saturday, Nov. 20, or to volunteer to help out with the project, call Suzanne Morneault at 207-444-9070 or 207-540-5446.