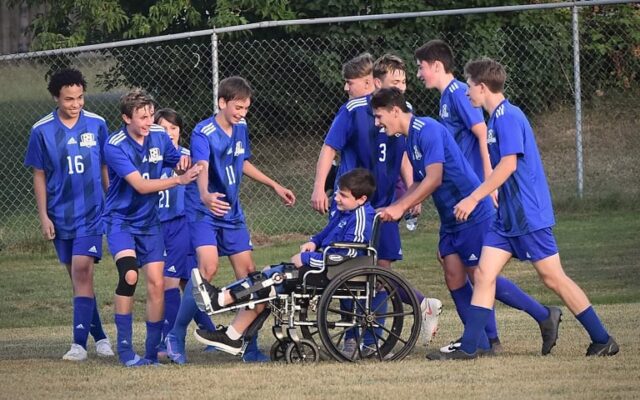 242532306_1443356232731183_2970197373849885986_n
MADAWASKA, Maine -- Aug. 28, 2021 -- Madawaska boys varsity soccer team rushes out to meet teammate Cameron Migneault, who had just returned from major knee surgery, during halftime of a home game versus Easton. (Courtesy of Kerry O'Brien)
Madawaska soccer players support their teammate through a major knee injury
MADAWASKA, Maine — When Cameron Migneault returned to Madawaska from knee surgery at Children's Hospital in Boston, the first group of people to greet him was his varsity soccer team. 
When Migneault, 15, rolled out onto the field in a wheelchair at halftime during the Owls' Aug. 28 game versus Easton, his teammates rushed out to greet him and push him over to the bench. 
Although Migneault will be out for the remainder of the season, he's attended all the Owls' home games to support his team. In turn, his team has been there for him. 
"To have a bunch of people take me out, it's awesome," Migneault said. "The team's very, very supportive, they're really great about it."
During a downhill ski accident in Fort Kent in January, Migneault broke his tibia and tore his ACL, his LCL and both sides of his meniscus. Although he was treated for the tibia fracture right away, doctors didn't realize that he had damaged the ligaments until scans revealed the damage in August. 
He walked on the injury for almost six months, working his regular shift at the Madawaska Tastee Freez throughout the summer. At a kids soccer camp this summer, Migneault ran and played right alongside the children, Owls' head coach Ben Gagnon said. 
"That's just Cam," Gagnon said. "He's got a super high threshold for pain." 
But eventually it became too difficult for Migneault to walk, and new scans revealed the severity of the injury. He had two options from there: wear a brace and keep the joint immobile for an entire year or repair the ligaments with surgery. He chose the latter. 
Late in August, Migneault underwent reconstructive knee surgery in Boston. His ACL needed to be replaced entirely, the new one grafted from muscle fiber in his hamstring. Doctors reinforced Migneault's LCL with his IT band — a long ligament that stretches from hip to knee. 
An avid skier and soccer lover, Migneault hates being trapped in his knee brace. He has to stay off his knee for the most part, and has taken up homeschooling to avoid the complications of moving about the Middle/High School in a wheelchair. 
Migneault is working diligently on his rehab, and is determined to play next season.
"This is really, really annoying," Migneault said. "I can deal with the painfulness of the exercises and all that, but having to sit around and keep it straight [is annoying]."
There have been some bonuses. Migneault, who wants to be an Air Force pilot, flew to and from his surgeries with Angel Flight — a program that provides free transport flights to and from medical appointments across New England. Riding in the tiny six-seater has easily been one of the highlights of the past several months for Migneault. 
His team, of course, has also been a highlight — Migneault watches the games from the bench and joins the team huddles before and after. It's been especially fun to be around the team while he's homeschooling, away from his classmates, and he said he's learned a lot from observing the games week in and week out.
"I want to stay involved, I want to support the team," Migneault said. "I didn't notice how much work they did on the field until I watched the games instead of playing inside them."
Last season, as a freshman, Migneault was nominated as the Owls' favorite teammate. The group is close — some of the boys were even with Migneault when he was skiing. Teammates said that they missed having Migneault around and looked forward to his return.
"We very much miss Cam as it is. We'd love to have him on the team," Adam Gendreau said. "He needs to heal and get ready for the next season." 
"He's very humorous, so even though he can't do what we do, he still brings joy from the sidelines," Nick Poitras said.